Glacier Girl Is Making Climate Change Awareness Cool
Eco-warrior.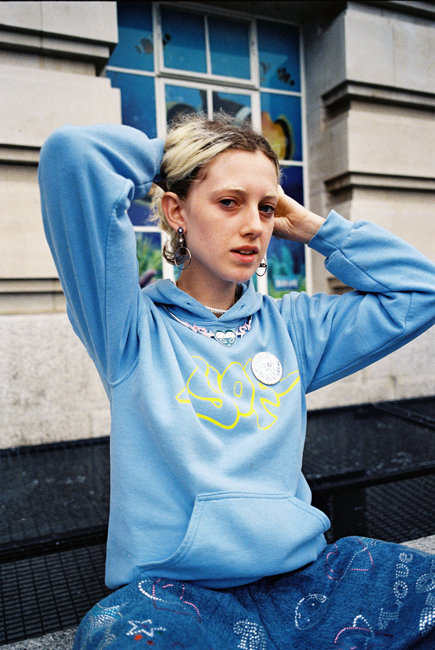 Elizabeth Farrell, known primarily by her internet persona 'Glacier Girl', is here to remind the world that caring about climate change is cool. The eco-warrior is pushing all things environmental to a generation that's beginning to trade armchair activism in for actual action. Elizabeth's excellent Instagram, Tumblr and Twitter feeds are designed to make the environmental movement exciting and relevant to young people. In summary: she's saving the world and lookin' good while she's doing it! Get acquainted with her goals below.
Name: Elizabeth Farrell
Nickname: Glacier Girl
Star sign: Aquarius
Where did you grow up and where are you living now?
London, London.
What were you into in high school?
Cold environments and glaciers.
In what ways have you changed since then? 
Rather than focusing purely on physical environments in isolation, I'm more interested in how we relate to and function within environmental systems and the relationship between people and ecology.
Who/what is Glacier Girl and how did it come about?
I am Glacier Girl! The name was given to me by my friend Olivia due to my obsession with glaciers. The project came about due to a cluster of realisations all at once… I was interested in environmental issues but didn't feel I could relate to the current environmental movement and I don't feel the education system addressed climate change enough. I aim to raise awareness about climate change in an exciting, accessible and relatable way for young people to take hold of their futures.
Do you think climate change is the single biggest issue facing our generation?
Yes. In working towards climate justice we are simultaneously working towards social justice.
Do you think we're complacent or do you think that's changing?
100% changing!
What's the best piece of advice you've ever received?
Mmm… the one that sticks with me constantly is from my friend Charlie who used to say: "Keep on keeping on!"
What are you most excited about atm?
New opportunities!
Have you visited a glacier IRL? What was it like?
Yes, I went to Sólheimajökull in Iceland with my friend Connie. It was beautiful! Pretty indescribable, but kind of a similar feeling to walking through a cemetery staring at sediment and debris only visible due to glacial melt/retreat.
What would be your last meal?
Well I'm vegan but seeing as it's my last meal I'd probably treat myself to some cheese.
What's your idea of utopia?
Ecological justice.
What do you want to be when you grow up?
Glacier woman.
Words to live by: Remember The Glaciers.