Collection Survey: OIL AW18
Future so bright.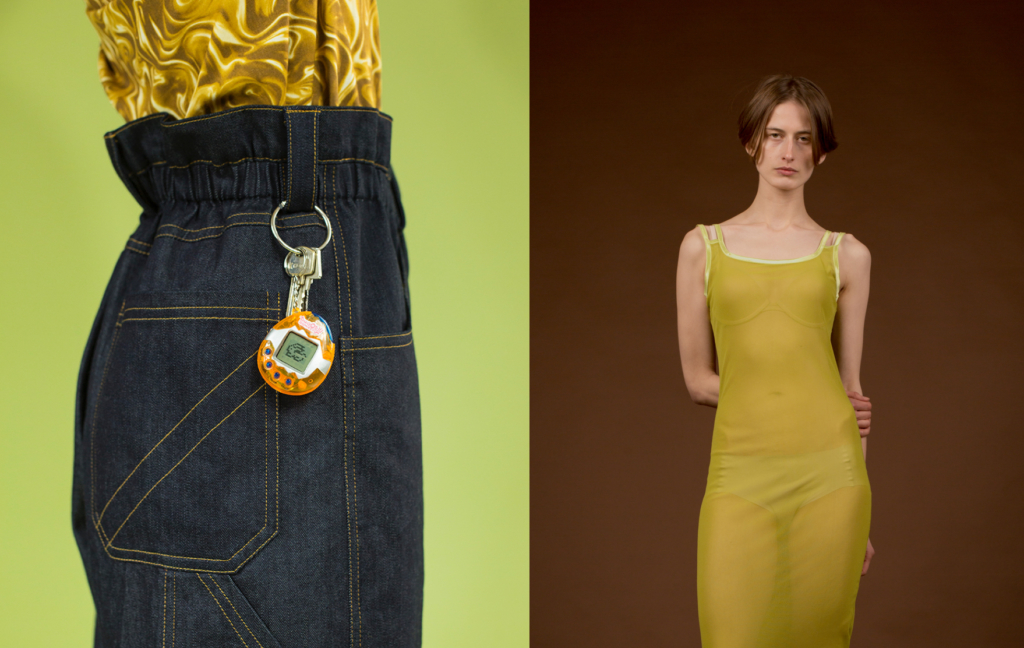 Berlin-based label OIL likes to spill between states of feminine and masculine, intimate and rough, soft and strong. When we look at it, we see a colourful and textural connectedness that practices what it preaches. Produced independently in Berlin, using entirely sustainable energy sources, the brand has committed to leaving behind as little waste as possible and supporting their local makers.
So, with reference to times of fighting for a brighter future, OIL's AW18 collection feels truly authentic. With large collars, big patterns and a thrift store blanket colour palette, the collection evokes a time of movements, a push for freedoms, and young people being smart and loud about what they want. A sentiment that is not lost on this day's whole situation.
Get to know Olive, who heads the label, below. And above, roll through the AW18 lookbook.
Name: Olive Brown
Starsign: Aries
Where are you from and where do you live now?
Born in LA, raised in NY, now living and working in Berlin
Any personal beliefs or values that are meaningful to you?
All creative output should have a purpose and a message. There is too much to be said to say nothing at all.
And what were you doing, learning or practicing before you started working on your clothing line?
I left NY in search of something new and wound up in Berlin, running around and meeting fascinating people who inspired me to make clothes that reflected their desire for the freedom of self-expression. The line has of course evolved over time but I am still inspired and driven by those around me.
Can you tell me a little bit of background on the collection — any inspirations, references, important collaborations?
The collection is very inspired by the 70s – a time when people felt passionately about fighting for a brighter future. Certain elements evoke a nostalgia for the past that is very poignant today. We also played a lot with the concept of the suit and the idea of it as a tool of strength and empowerment. Together these components suggest a way to be strong, to be powerful, to fuel positive change.
If you could describe the OIL lifestyle in five words?
Brave, bold, empowered, outspoken, accepting
If the collection was a colour: Orange/brown
If it was a mood: Funky fresh
If it was an animal: Leafy sea dragon
If it was a language: Portuguese
If it was a place: Berkeley in the 70s
If it was a time: Golden hour, just before sunset, sometime in October
If it was a song: Chaka Khan, 'I'm Every Woman'
If it was a season: Autumn
If it was a food: Papaya
If it was a famous person: Angela Davis or Gloria Steinem
If it was a YouTube video: Soul Train
If it was a smell: Cinnamon and cigarettes
If it was a texture: Satin
If it was a quote: "We're the future, we're the change"
If it was a film: Belladonna of Sadness
Photography: Anna-Lena Krause
Hair and make-up: Nadja Jeberien