Life Lessons From Cher Horowitz
The voice of a generation.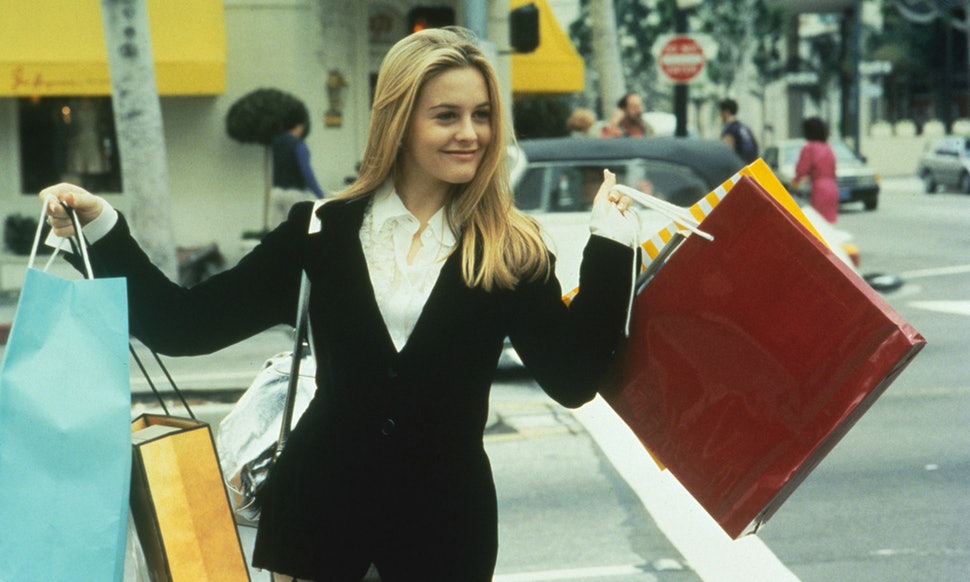 Trump is President, Celine lost its é (and Instagram history), Kim Jones said streetwear is dead — these are confusing times, people!
But there's no one better equipped to give you life advice, except, maybe a therapist, than Cher Horowitz. For real.
Growing up, Clueless was easily one of my favourite movies. But watching it again as an adult, I realise how relevant it still is — and truly how brilliant Cher is, and also, how amazing plaid is, but I digress.
Cher Horowitz could definitely be the voice of our generation, even though she's not part of it at all. And because she's not actually real, life advice we've gleaned from watching the film over and over, will just have to do.
ALWAYS NEGOTIATE/NEVER SETTLE
Cher never lets anyone tell her what to do. When the driving instructor fails her after what's arguably the worst driver's test anyone has ever seen, she cries, and tries to fight him. Same goes for her grades and really, everything at school. When Cher's father sees her report card, he's disappointed by some B's and C's. Cher, ever the litigator, tells him not to worry, she's on it. And because we're talking about Cher, of course, she was almost able to negotiate her way up to straight A's. Then, when it was time for gym class, she got on her giant soapbox and laid down the law. If you think about it, she basically summed up everything that's wrong with public school athletics these days. She should probably be head of the school board, or at least, a teacher.
CRYING DOESN'T ALWAYS WORK
Though she does put up a good fight, she does actually fail her drivers test. Boo.
THINGS AREN'T ALWAYS AS THEY SEEM
Okay, so you're probably going, "Is this like a Noxzema commercial or what?" But seriously, I actually have a way normal life for a teenage girl.
NEVER DATE A GUY WHO DRESSES BETTER THAN YOU -- OR IS STILL IN HIGH SCHOOL
Cher offers up a lot of really valuable quotes and advice when it comes to dating, and particularly about the roles we play in our relationships. When things don't seem to be going her way with Christian, she sighs: "He does dress better than I do, what would I bring to the relationship?"
As for high schoolers? "Searching for a boy in high school is as useless as searching for meaning in a Pauly Shore movie."
PREACH, girl.
DON'T GO TO THE VALLEY AT NIGHT
For anyone from Los Angeles, this could be a given. But hanging out in parking lots in Burbank at night are basically just an excuse to fuck up your Alaia.
YOU CAN'T CHANGE PEOPLE -- YOU NEED TO ACCEPT THEM HOW THEY ARE
This one, Cher learns the hard way. After giving Tai a makeover and trying desperately to make her up in her's and Dionne's own image, she realised Tai was happier being a slightly sloppy stoner; same with Miss Geist. Though that clean-up did her a lot of good, and she really did fall in love with Mr. Hall, you can't muddle in anyone's business. You need to be happy with who people already are.
GOOD DEEDS ACTUALLY FEEL GOOD
Speaking of makeovers though, "Tis a far, far better thing doing stuff for other people." Right?
AND SOMETIMES, WHEN YOU'RE NOT BUSY TRYING TO FIX PEOPLE, YOU FIND WHAT YOU WERE LOOKING FOR WAS ALREADY THERE
Truthfully, this part of the Clueless plot was always a little shady. But hey, love is love, I guess. The second Cher stops focusing on Tai, Miss Geist and Mr. Hall, and even Christian, who she thinks would be the perfect boyfriend, she realises she really loves her ex-step-bother, Josh, whose been there all along.
PLAID IS AMAZING -- AND KNEE-HIGH SOCKS GO WITH EVERYTHING
I mean, just look at Cher's wardrobe throughout the entire film.
EVERYONE NEEDS A BEST FRIEND
Though Stacey Dash, the actress who played Dionne, has become so awful she's almost ruined the character entirely — Cher and Dionne prove that everyone just needs a best friend; someone they can count on, and of course, have a bunch in common with. Like Cher and Dionne, who were both named after famous singers of the past, who now do infomercials.
EVERYONE DESERVES A CHANCE
Honestly, it's shocking how pertinent Clueless remains, almost 25 years after it came out. To this day, I'm not sure anyone has ever summed up the refugee crisis so succintly, as Cher does in her debate class.
"So like, right now for example. The Haitians need to come to America. But some people are all, "What about the strain on our resources?" Well it's like when I had this garden party for my father's birthday, right? I put R.S.V.P. 'cause it was a sit-down dinner. But some people came that like did not R.S.V.P. I was like totally buggin'. I had to haul ass to the kitchen, redistribute the food, and squish in extra place settings. But by the end of the day it was, like, the more the merrier.And so if the government could just get to the kitchen, rearrange some things, we could certainly party with the Haitians. And in conclusion may I please remind you it does not say R.S.V.P. on the Statue of Liberty. Thank you very much. "
Now, if only Trump would read this list and take some of Cher's advice.
Images/GIFS: Tumblr & Giphy