#NeverForget Celeb Couple: Our Favourite Sk8r Grrrl And Z-List Surfer Boi, Avril Lavigne And Brody Jenner
He was a boy, she was a girl.
There's always those celeb couples who, when they're dating, make absolutely zero sense. But once they break up, you're like 'WTF? I can't imagine my life without those two C-list actors together. How could they break up?'
Well, that's how I felt about Avril Lavigne and Brody Jenner — except, I was stoked when they broke up because he's my guilty (AF) pleasure. But the two of them actually gave me hope, because if he liked Avril, then there was a chance he could like me. #punkrockchix4life
Needless to say, I think about Brody Jenner often. But earlier this week, I was reminded of he and Avril's love fest, when Avril's new album came out. If you haven't heard about it (which, you probably haven't, unless you follow her on Instagram, or still wonder what she's up to and if she's going to try to steal back Brody Jenner before I get to him), the Canadian punk rock princess dropped a new album September 19.
So, of course, that got me reminiscing about her and Brody, and the happy ending they almost, but never really, had.
Let's take it back to the beginning: Avril was, of course, married to Sum41 frontman Deryck Whibley, making them the Canadian king and queen of bad pop punk. But, alas, Deryck had to go and make things super complicated by being an alcoholic, and the two of them got In Too Deep, and broke up.
Around this same time, Brodez was done banging chicks like LC and Kristin Cavallari (and his Playboy playmate psycho girlfriend, Jayde), and decided to change things up a bit.
Enter: Avril Lavigne.
Pretty soon, the duo was walking around town, tattooing each other's names on their bodies and getting 'papped. But things weren't as simple and beautiful as they appeared on Perez Hilton (actually, they were quite complicated, natch). Brody and Avril were partying a lot (remember THESE photos of them after a bar fight?), hanging out with Paris Hilton and fighting. One time, Avril even wore a shirt that said music was her boyfriend. BURN.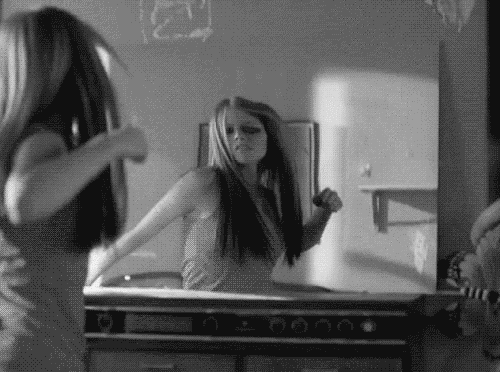 Still, they persisted, and for awhile it almost seemed like they were going to make it. I mean, Brody was super into her — he even ignored my multiple tweets, in which I invited him places, told him he was my dream boy, and basically promised him anything he'd want. Clearly, he was serious about her.
But eventually, the two of them sobered up a little, and broke up. It was a tale as old as time. SHE was a punk, HE did ballet — err, grew up in Malibu with a silver spoon in his mouth and did nothing but surf and party. No amount of Urban Outfitters anarchy symbol t-shirts could change that.
Now, of course, Brody is married to some Kristin Cavallari knockoff — I mean, fashion blogger — and Avril is single. But at least she's working on new music! We all know, she's better off alone anyway.
And, well, Brody — it looks like he got his taste of punk and I missed my shot. But at least I have my memories… and a few saved tweets.
Images/GIFs: Tumblr & Giphy