#Trending: Five One-Shoulder Fashions We Be Buying This Season
*adds all to cart*
The good old one-shoulder dress was once a style reserved for AFL wives on presentation night. But, here we are in 2018, embracing the filthy excess of the 1980s and the do not touch me attitude of the 1990s, culminating in a game of peek-a-boo with one's cold shoulder. Or something.
Of this trend, which we are whole-heartedly backing, we've selected five favourite shoulder-barers that we wish to be buying (or gifted, 'tis the time) this season.
Par Femme:
The most understated, wearable and wardrobe-staple of the whole lot, Par Femme's new one-shoulder singlet dress is an elongated version of their unbeatable one-shoulder singlet top. Made from cotton and available in black or nude, the dress is super sexy and also comfy. So comfy that you could very easily be lounging on the couch in it all day only to be "surprised" by your housemate's hot friend looking as effortless and babing as a pre-Brad Jennifer Aniston. Shop here.
Daisy:
Not for the gal who wants to go unnoticed, Daisy have produced a rather spectacular off-the-shoulder number available in a very game orange and zebra. Part of the 'Love Story' collection, this one is all about the subtleties of sex appeal and the nuances of love and romance. I'm sure it feels just as good putting on as it does taking off. Shop here.
Elissa McGowan:
Leave it to Australian sweetheart Elissa McGowan to bring glacé rebellion to a cut of pebble satin. Her Supralittoral top hangs in the balance of beach babe and @oldceline devotee, with its ruched detailing and disproportionate wrist cinching… and a very intentional shoulder strap to bring it firmly into free and easy territory. Shop here.
Saint Laurent: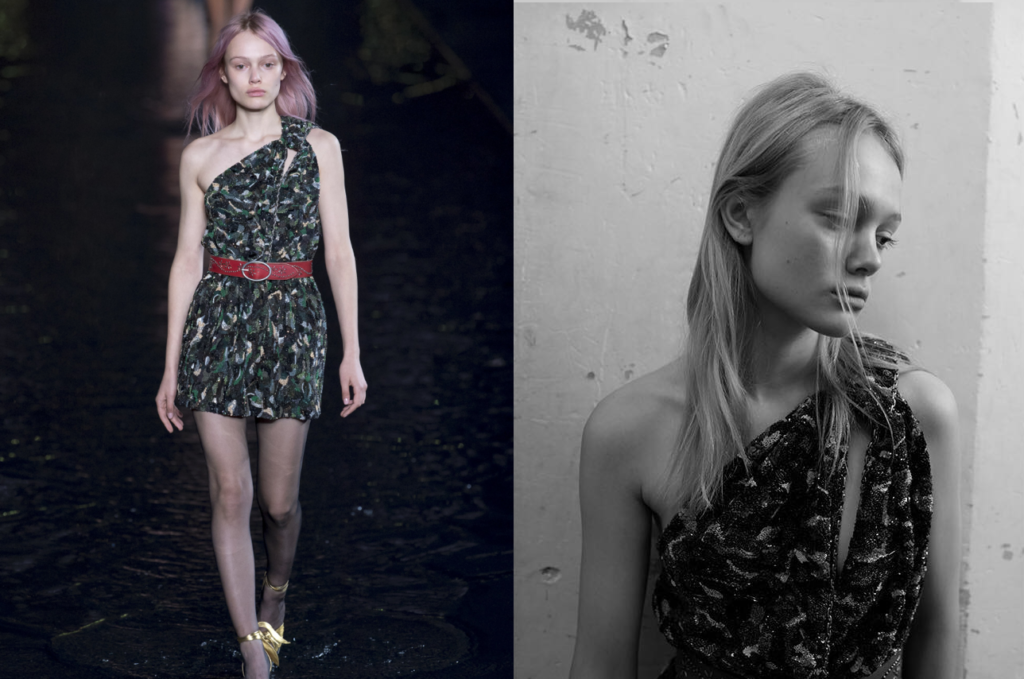 A classic Saint Laurent cut, this mini draped number looks simple but let me assure you the appeal is tightly calculated. That shoulder knot comes with beaded detailing and openwork through the front and back. Juuuuust enough skin is covered here to allow it to constitute as clothing, and just enough is exposed to ensure you're the hottest person at the next cocktail reception/after party. Shop here.
Gucci:
Leave it to the Guc to turn a bodysuit you'd hard pass on Nastygal into an item that is painfully essential. The bold yellow and tiger print are giving us Chloë Sevs in Gummo vibes so hard that we think donning it might just turn our eyebrows white. Here for all of it tbh. Shop here.