Valentina Sykes And Byron Spencer On Friendship, Home, And Finding Both When You're On The Road
Mutual attraction.
Good mates and Oyster faves Valentina Sykes and Byron Spencer have a cute bond. The model and photographer, both Australian-born, met on a shoot years ago. Since then, they've continued to bump into one another as they each ping around the world semi-autonomously — landing wherever their work and predilection might take them.
Work for Byron means hanging out in LA with Troye Sivan to a Mariah Carey soundtrack and shooting him for Oyster 114, doing fantastic collaborations with Paco Rabanne, and keeping it real with his sister's label Réalisation Par. And for Valentina, looking incred on pages of your favourite magazines, facing for great labels and walking shows fills her CV — soon to be make-up artist, we hope!
The two total chillers have managed to find bliss in the LA sprawl, where they're positioned now — sort of, at least until Byron heads to the jungle in December and Valentina boards a plane back to Australia for the holidays as we type this…
We hit them up to document their home away from home, the best way they know how — with Byron following Valentina around under golden light, on a hiking trail they often hit together, snapping pics of her cosmic beauty. And then they let us pry a bit on their relationship — secrets, first impressions, mutual affection, feeling at home and bonding over Bonds.
Name:
Byron Spencer
Valentina Ruby Sykes
Nickname:
BS: Bear
VS: Vee
Starsign:
BS: Leo
VS: Capricorn
What do you do with your life, for work and for pleasure?
BS: Where to begin…
VS: For work, I model. For fun, I like to do makeup and play with glitter 💖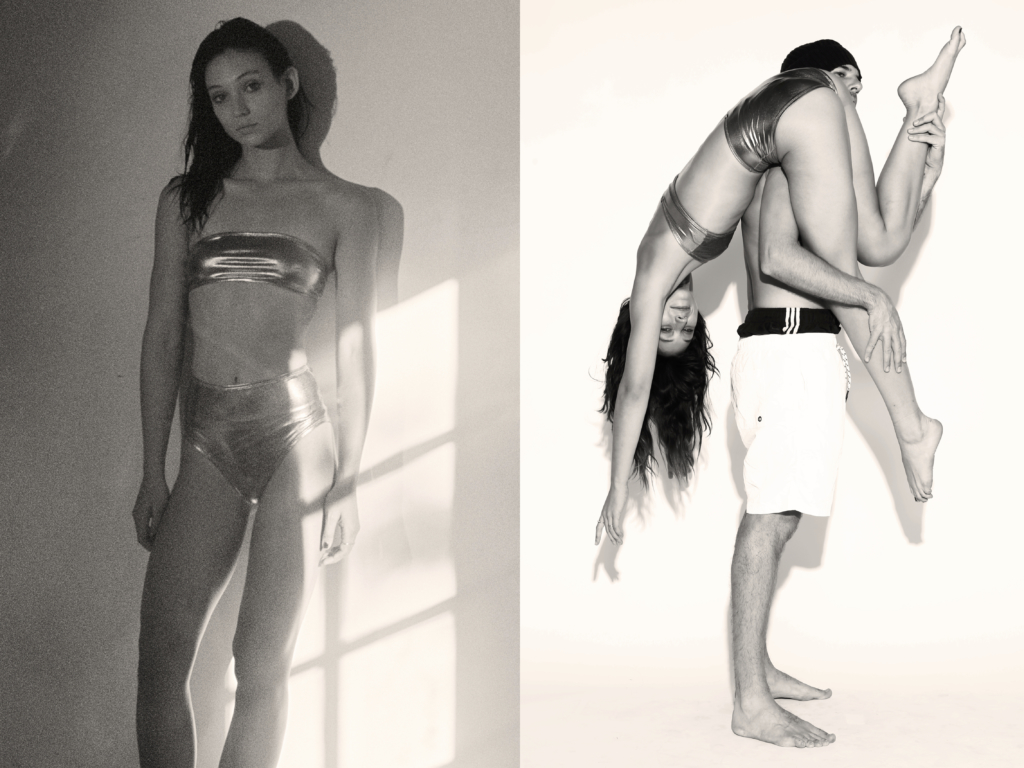 Where were you born and where do you live now?
BS: Sydney and the world.
VS: Born in Melbourne and living in Los Angeles.
How would you describe 'home'?
BS: Where I fall asleep from complete relaxation.
VS: Home is Australia or wherever my mummy is. Although LA definitely feels like home now too.
We asked you to document your friendship — so where did you shoot and what was the vibe?
BS: We are in LA at the moment. We have a lot of fun with each other — we laughed our way through some photos.
VS: We took them near Mulholland on the hike we like to do. We just giggled and had a bit too much fun.
When did you first meet each other?
BS: Years ago on a shoot.
VS: So long ago now! I think I was like 15 or something — we've been pals ever since!
What was your first impression of one another?
BS: Who's this weird, cool, random, moony girl?
VS: Hilarious, entertaining, warm and an angel 👼
Do you remember what made you want to stay mates with each other?
BS: She is dry and supported what me and my mates did from the get go. She's just great.
VS: He makes me laugh A LOT. And he is always there for me.
Is there anything you'd want to know about the other but are too afraid to ask?
BS: How old are you really?
VS: We're quite comfortable, maybe too comfortable… I could ask him anything.
Is there anything the other doesn't know about you but you wish they did?
BS: This is a very public forum to announce the role I just landed on Broadway…
VS: I'm his long lost second cousin… I just never knew how to tell him.
Which Australian animal best represents the other?
BS: The Tasmanian tiger.
VS: Koala Bear.
In Australia, Bonds is a bit of a rite of passage growing up. Byron, do you remember when you first got into the brand?
I loved wearing 'Blueys'.
Valentina, how'd it feel to slip on a fresh pair of Bonds for the shoot?
Comfy and cute.
What's the first thing you think of when you think about Bonds?
BS: Blueys.
VS: Aussie!
What do you miss about Australia right now?
BS: The weather and smells.
VS: I just landed in Sydney! I always miss the beach, so I'll probably head there this morning.
Any tips for feely comfy and surviving a job with big travel demands?
BS: My sister just bought me slippers. I needed new shoes before coming back to LA and I've decided that maybe these slippers are actually the 'new shoes'.
VS: When I figure it out I'll let you know. I really like travelling, but flying all the time still stresses me out.
If you could get a care package from your friends in Aus, what would you hope is inside?
BS: Blueys.
VS: Vegemite always, home made jam from my mum, and maybe that cute pink Bonds crop top.
Finally — where are you off to next? What are you working on and working towards?
BS: In December, I'm going to the jungle. I'm working towards a Grammy, and if all else fails… a Tony.
VS: I just got back to Australia so I will be shooting in Sydney for a few weeks. Then I'll head down to Victoria to relax on mumma's farm and peace out 'til the new year.