Oyster Fashion: 'Never Say Die' Shot By Daphne Nguyen
Big spirit.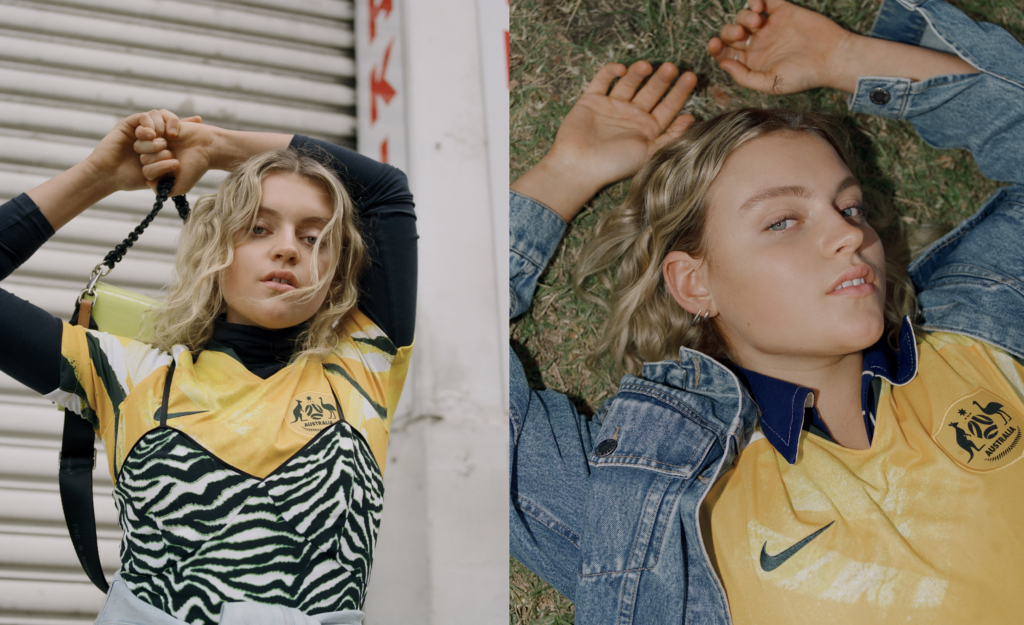 The Matildas and Nike are going good-crazy about a new team kit at the moment and with true reason: it's the first time the women have had their own jersey designed for them by Nike — it's made out of 100% recycled plastic, it has secret messages on the inside and it looks fresh as heck.
Since it's available right now for you to purchase and don with pride, we asked major babe and Matildas supporter Kath Ebbs to dip into the football-jerseys-as-fashion direction that loads of major labels (see: Off-White, Yoon Ahn, Balenciaga, Versace, Burberry, Alexander Wang, Golf Wang) have been leaning towards in recent seasons, and tell us how it made her feel — from both a style and supporter perspective. "If you are not supporting the Matildas, as anyone, but as a female Aussie, what are you doing?" she explains, when we ask her what supporting the team means to her.
Continuing, she mirrors our feelings: "Not only are they inspiring individually, but as a collective, you can feel their energy when you're in their presence and it's really something quite special. They're just so goddamn talented. Why wouldn't you get behind them? They're a bunch of amazing women and they can really kick a ball around." 
On repping her new Matildas kit, she assures us it's something that slips easily into her every day wardrobe, "it doesn't just have to be for game day". We know this, obv, but for those who have reservations about styling sports gear — even after seeing it in street style galleries the world over — we've brought in Oyster's contributing Fashion Editor, Sarah Starkey, to show us how it's really done. Putting her signature emphasis on layering and off-beat moments of texture and pattern collision, Sarah works the jersey seamlessly into a zebra print dress situation, a sports-meets-grunge look that honours the 90s mood, a double denim fantasy, and our personal favourite leopard print trouser affair.
Kath has some hot tips, too. "I like to contrast looks, so I'll go for something really tomboy with something really girly," she says. "You could get the Matildas jersey — which is sick and has amazing colours, but I guess it's seen as quite tomboy — and pair it with a dress or a skirt so you get this cool contrast."
When we chat to Kath about collaboration and teamwork, which is a big part of why we are all so inspired by the Matildas women, she lets us know that working well with others has been instrumental to her career: "I think community and teamwork are everything, you don't really have much without it," she says. "I think the perfect example would be today — yes, I work for myself in terms of being a model, but without the team and without Nike behind me in this job, there is no job."
And the reason why Oyster and Nike decided on Kath to help spread the Matildas inspo, is because Kath is an impressive woman in her own right. Her way of thinking and her relationship to her body and mind are really striking. When we chat about this, about being within the modelling industry and still having control of your confidence and mental health, she gives good advice.
"I used to get stuck on this topic because there's this self-love confidence movement, which is sick, but I would get confused because I didn't feel it. So it almost felt like I was doing something wrong or like I was doing wrong by my industry, or the world, or women, by not being super confident," she tells us.
"Now, I've sort of reshaped it and I think inner confidence comes with having a conscious relationship with yourself and with the world. And it doesn't mean being perfect all the time, it doesn't mean loving yourself all the time and not being insecure, but it's about being aware of those thoughts and being aware of the world around you. You might not have positive thoughts all the time, but you can understand them when they come up instead of letting them take over you."
In case you missed it, Kath is a master of good vibes and has a really relatable appreciation for wellness. She's as real as it gets, and her attitude is pretty contagious. As it turns out, self-expression is vital for this no-nonsense beauty. "I think creativity comes under wellness because expressing ourselves is so important to our health," she says. "I definitely think fashion contributes to wellness — it helps me feel good because it helps me feel myself."
Together we reflect on the Matildas' new anthem, 'Everything We Ever Dreamed Of', and discuss our own dreams. Kath says she has "always had this sort of inner knowing or inner faith, I suppose, knowing that whatever I want to do if I put my mind to it, I honestly can," and we are right behind this positivity. "Whatever I decide to do, I just do it with my whole heart. I know that if I believe enough, that I can and I will." What a mood.
On that note, sitting in front of this natural charmer and low-key vision of empowerment, we talk to Kath about the Matildas' rally cry 'Never Say Die,' which she has embraced wholeheartedly. But if she had to create her own? It's a good one: "There's a lesson in everything," she's sure of it. "Even when things go wrong, there's always something to be learned and you're always being guided to what you need."
Photography: Daphne Nguyen
Video: Freya Esders
Fashion: Sarah Starkey
Hair and make-up: Gillian Campbell
Model: Kath Ebbs
Produced by Oyster in partnership with Nike.