Know Your Trends: Juggalo Is Fashion And It's Time To Join The Family
Whoop whoop!
In 2011, the FBI described juggalos as a "loosely-organised hybrid gang, rapidly expanding… engaging in criminal activity and violence" but to the masses, juggalos – and juggalettes – are simply followers of the hardcore hip-hop genre, horrorcore and the Insane Clown Posse (ICP). Lead by the iconic duo, Violent J and Shaggy 2 Dope, ICP have created a juggalo credo — a culture and lifestyle where people from all walks of life are invited to join their "family". Sporting a killer aesthetic born in Detroit in 1989, Violent and Shaggy have a huge counterculture fanbase. The style is a gothic mood-board of cyberpunk meets baggy tees and sports jerseys, ICP merch, often tatted-up and almost always baring a fresh (or crusty) face of clownish makeup.
However, the juggalo lewk is increasingly making its way outside the "family" and, besides the best dressed at the annual Gathering of the Juggalos festival, a few fashion brands/names are embracing this rather scary, rather sexy schmood.  
In August this year, Petra Collins gifted Instagram with #hotclownsummer, starring Petra herself serving trailer park chic with serious juggalo vibes. Dressed in a baggy yellow tee and slurping on a soda, or styled in a teeny-tiny fluro bikini and taking public bathroom mirror selfies, the evil yet trendy ICP aesthetic is an absolute vibe – shot by photographer Moni Maworth with cute but psycho face paint by makeup artist Kali Kennedy.
November 2018 saw fashion's most orthopaedic footwear, Birkenstock, collab with Berlin mag turned "remove before sex" clothing label O32c – giving us a very tough juggalo inspired shoot. The result: two tonguing juggalos and a kink we didn't know we had…
Before Birkenstock was Berlinified, the Myspace-discovered singer-songwriter Sky Ferreira repped an ICP tribute for dystopian streetwear label Darkdron. Shot by sultry Californian based photographer, Sandy Kim, the collection titled 'Unwelcome' was influenced by the Friday the 13th horror franchise, as well as, well – juggalos. Darkdron Founder, Gio Forbice told Hypebeast, "We love the look of these fans. We think their mood sits perfectly with the Darkdron ideology." Because what's not to love about leftist values and resisting social norms?
Meanwhile, on hit US television shows like Saturday Night Live, Always Sunny in Philadelphia and Workaholics, representations of juggalos are also #trending – although more for laughs than fashion.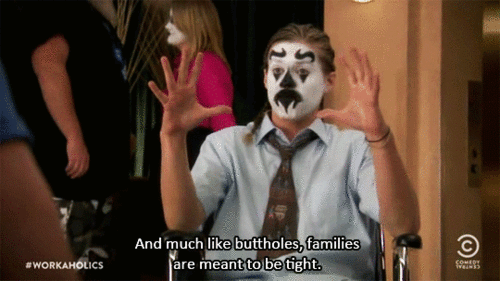 Perhaps it was Mr. Couture, Alexander McQueen who really brought juggalos into mainstream and luxury fashion. 'What A Merry-Go-Round' was a stunning and spooky FW02 runway show that proved there's nothing more fashun than sad clown-faced gals riding a carousel in couture. The following year, for FW02, his dark and twisted beauty looks potentially pulled from juggalo paint.
FYI if this whoop whooping has got you feeling inspired, you should defs join – only twelve easy steps and you're family.
Images and GIFS: Instagram, Giphy