Andy Long Hoang Shoots In The Midst Of Political Protests In Haiti And The Dominican Republic
"The whole experience was unreal — so much sadness in so much beauty."
As a fashion photographer, Andy Long Hoang's work isn't necessarily political. But when he was invited by the First Lady of Haiti to shoot collections from 14 of her country's most exciting artisanal designers, the London-based photographer found himself in the middle of a riot. Literally. While Long Hoang was documenting looks from designer Helmer Joseph in Port-au-Prince, locals were on the streets protesting political corruption, and the man at the centre of their claims was his host's husband, President Jovenel Moïse. A few moments later, he was listening to gunshots from a car as it crossed the border into the Dominican Republic. Instead of going home from there, when he got to Santo Domingo, he kept shooting.
The city, the border — Long Hoang captured it all, along with a Dominican model wearing Helmer Joseph. The result is a series that feels both subversive and tragically beautiful. Standing just a few hundred kilometres from police-covered streets where rioters were burning cars, a model poses in a ruffled bikini top. It feels like a different world when you see the calm, empty street market behind her. And that's the transformative power of Long Hoang's photos. Whether he's shooting at home, in Santo Domingo or the middle of a protest, his work stays focused on his subjects — and their beauty.
Where do you live now and where did you grow up?
I have lived most of my life in Saigon, Vietnam. I moved to Montreal with my family 9 years ago and now I live in London.
When did you first pick up a camera?
I started taking photos when I was a kid. I used to ask my parents if I could use their camera. Back then, all the film point and shoots were small and made of plastic — they looked a lot like toys. So, it was just fun for me to play with. I wasted a lot of film that way, but I got better.
What brought you to Haiti and the Dominican Republic for this photo series?
I was very blessed to have met and worked with Haitian designer Helmer Joseph a few years ago and last fall, he introduced me to the first lady of Haiti while she was in Montreal for a gala. We met and I took some portraits of her and her family. This summer, they invited me to Haiti to visit some Haitian couturier ateliers, and attend an event that celebrated 14 artisans, so I could take portraits of a few honourable diplomats who contribute tremendously to the country. As for the Dominican Republic, my trip there wasn't planned. For my own safety, I was sent across the border when the riots started to break out in Port-au-Prince.
Tell me more about the trip. Impressions, favourite spots, memories?
Port-au-Prince [in Haiti] shook my preconceived notions about the country within the first day. Haiti's landscape is breathtaking, colourful and the people are laid back and warm. And the food is just one of the best! My favourite moment was attending Helmer's private presentation at Carré Zemes, a beautiful art gallery built on top of a mountain. The whole experience was unreal — so much sadness in so much beauty. There were burning barricades everywhere the day I left. Markets were torched, and I could hear gunfire as I was driving away.
Is it different shooting in different countries? What do you like most about documenting people, places and things away from home?
It's definitely different shooting in different countries, but I think the most beautiful thing is that everywhere I go I always find bits and pieces that reminds me of home. I love documenting and exploring new places, meeting new people… I'm fascinated by our differences, but happy to be reminded that we, as humans from different parts of the world are not so different from each other.
Does taking photos help you become a part of the culture or feel less like an outsider?
I think with my travel photography, I try to tell other people's stories from my point of view. But my interpretation of what I'm seeing, based on the context, becomes a major part of it. A photo is just a selection from that overall scene, so as realistic as photography is, sometimes I wonder if I do tell an accurate story or it's just a beautiful image.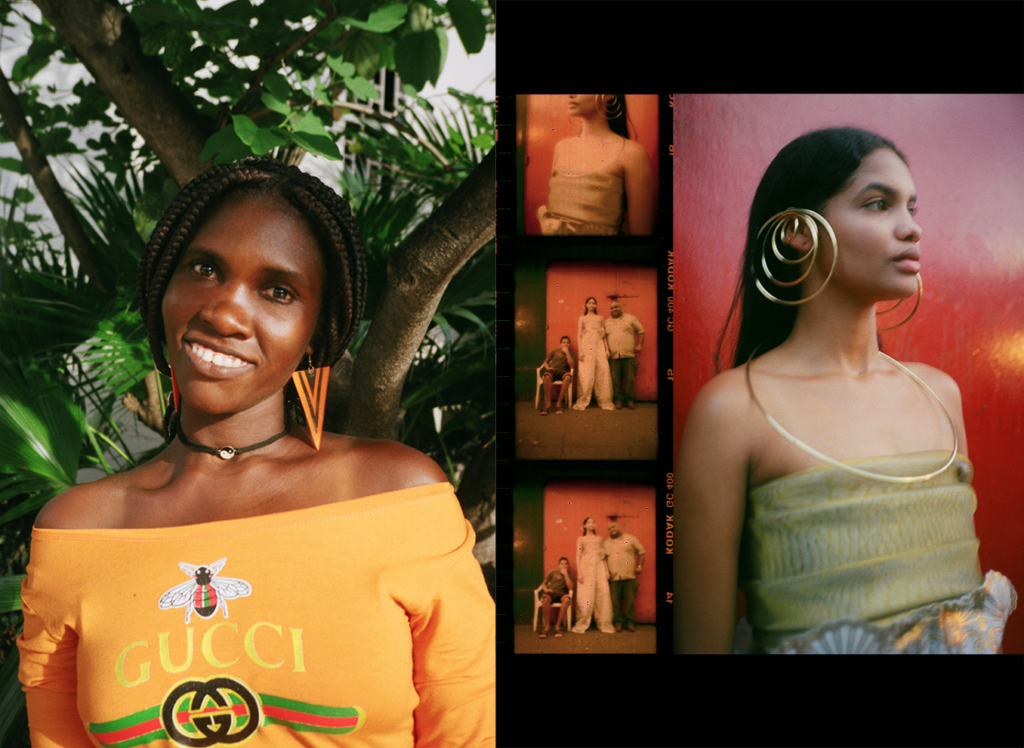 What do you try to capture within your subjects?
I always try my best to capture the moment when my subjects are feeling their best — when they feel badass and empowered. A successful photoshoot for me only happens when the subject trusts you enough to let their guard down and really express themselves freely.
As a photographer, how do you interact with your subject and surroundings in the moment? Or are you just a voyeur? Is there a difference?
I usually tell my subjects roughly what I'm looking for and let them fill in the blanks on their own. I may even sometimes awkwardly do the poses myself, or place the subjects a certain way, but then take pictures as the pose becomes more natural. For my portrait work, I do like a mix of candid and posed shots, though. So, yeah, I'm a little bit of a voyeur. We're living in a time where we're all being observed 24/7 — everyone has cameras in their mobile phones, there are cameras on the streets, CCTVs… it becomes a part of our living world and people agree with that. But there is certainly a difference between capturing the essence of a moment, and the transformation into voyeurism. It comes down to both the personal and ethical decision of the photographer and their objectivity, and the personal thoughts of the viewer of the image.
When is beauty real? How can you tell?
Shakespeare believed that the inner spirit is typical of what the outer appearance shows. I think real beauty is when a person is fully connected with themselves and their inner beauty radiates on the outside. But it's quite easy for an artist to tell when beauty is real and when it's not — I think it's part of our gift.
Do you think seeing photos of themselves makes people stronger, or more self-conscious?
My goal in photography is to shine a light — literally — on different types of beauty and make people feel better and stronger about themselves. A lot of people I know think they aren't photogenic. But I think a good photographer knows how to see the beauty in someone that might not see it themselves. To show them that in photos is an incredible gift.
Why is important to document things? Does capturing the past and present help you prepare for the future? Or is it a way to avoid it?
I like to document things because it immortalises a moment or a subject. And it's important because images can carry stories across the barriers of language, culture, space and time. That's why photography is one of the best, most accessible mediums to raise awareness around social justice issues. Like how Lewis Hine went undercover to capture images of kids at work during the 1900s — partly as a result, Congress passed the Keating-Owens Child Labor Act in 1916, helped ending child labour in the United States. That's just an example of how images can really work.
What's the realest advice you've ever been given?
A friend of mine once told me: whatever you do, do you 100%, because when you are always authentic to yourself, you will only attract people who want you for you. But that doesn't mean you can't reinvent yourself to make yourself relevant.
What's the most important thing you've learned through photography?
To never stop learning and improving my craft. Over the years, I've realised that the more I learn, the greater my ability to express myself artistically. Each new shoot can present a new challenge from which I can develop my understanding, and improve my work.
If you weren't a photographer, what would you be doing?
I always wanted to be an astronaut when I was young… but I realised I'm not that good at math or science.
Where do you want to shoot next?
Somewhere in the Middle East. The history is fascinating, but also challenging to comprehend with all the news we receive about the region everyday. Now more than ever, with the travel ban is in full effect, I think the Middle East needs more visitors, and more positive firsthand experiences, in order to move towards friendship versus conflict.
photography Andy Long Hoang, fashion Helmer Joseph, model Esther Cada, Assistant Charlotte Tanis