Meet Our Fav New NYC Band: Tracy City
"Kind of like a punch in the face."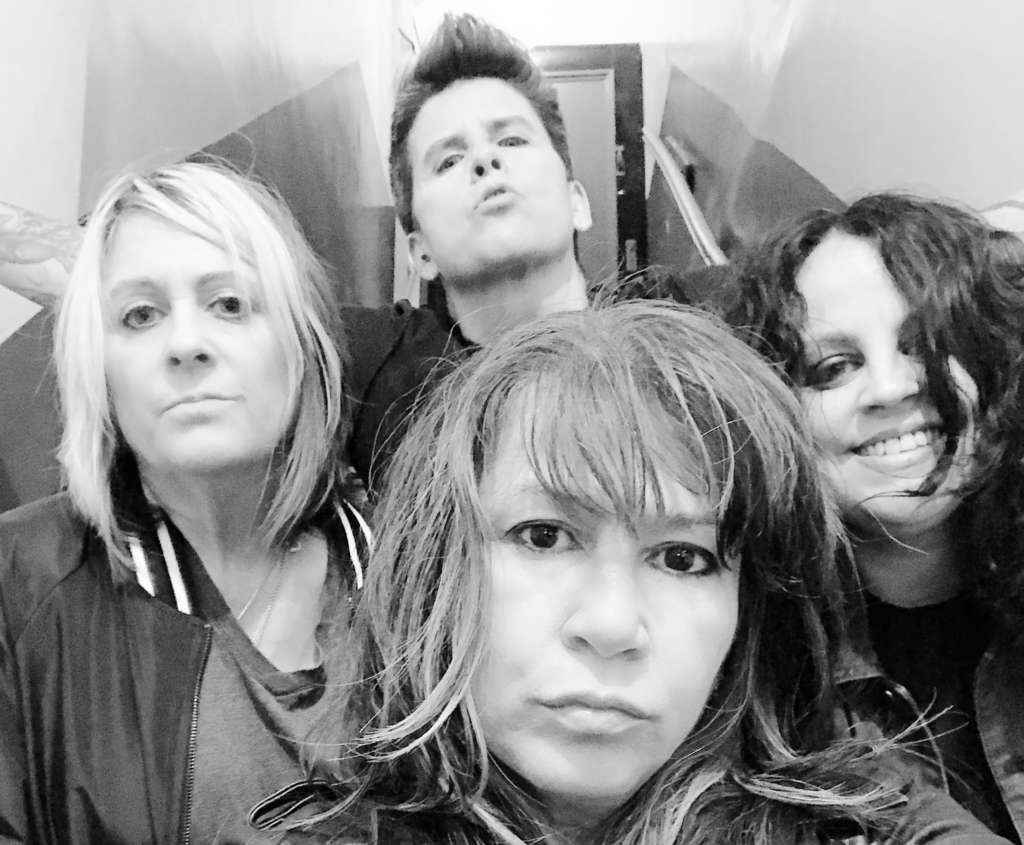 It's almost 2020. Social Media is the cornerstone of global culture, more kids know who Kimye is than Johnny Rotten, influencers are god. Whereas youth culture used to be the button on the bomb that is radical revolution, now, social change takes second place to likes and curated self-love. But that doesn't mean there's no hope — or that there aren't still people, like artist Katrina Del Mar and her band, Tracy City, saying 'fuck you' no matter what. Through brash, pounding singles, like their debut, "Love," Del Mar, along with guitarist Monica Falcone, drummer Genny Slag and bassist Liz Velic, deliver their subversive take on everything from politics, to friendship, to loss, all with their own kind of queer punk rock spirit that makes you question whether it's truly young people that will save us from ourselves. I mean, who said women over 40 can't fuck things up?
Formed as part of lead singer Del Mar's new movie project (she needed a band for the film, and they clicked so well, they started playing IRL), Tracy City is equal parts New York no wave and trashy B-movie. Think: Teenage Jesus and The Jerks or Magazine, if they were fronted by The Fabulous Stains or chicks from Jubilee, and directed by Russ Meyer or Ed Wood. "Tough girls, badasses and juvenile delinquents," says Del Mar of their style. And if that's not enough to make Tracy City your new favourite band, just listen to "Love." A pulsing mix of '80s goth a la Siouxie, L7-style thrashing drums and guitar, and Del Mar's painstaking wail that's in line with Exene's, the single is a "jaded — in other words, realistic — perspective" about relationships, Del Mar explains. "My work has always been kind of like a punch in the face."
Tell me about your first single.
The song is called "Love" — it's a kind of new wave, no wave, song that I wrote in a car with a kid who was eight years old, who was clapping his hands over his ears as I sang it to him, and I found that so hilarious that I kept singing it, and then I finished writing it with my band.
Right, Tracy City. What's the story behind the band?
Tracy City is a band made up of all lesbians, which I think is great. I came up with the idea for the band about 10 years ago when I was driving in the car with my brother and my ex-girlfriend. We were driving from Louisville to Atlanta and saw a road sign that said Tracy City. It's the name of a real town, which I've never been to, but it evoked something in me about female toughness and loneliness. When we got together, we wrote our album in one day and then recorded it the next. But we never actually heard it, because whoever was pushing the buttons had no clue what the fuck they were doing. So, it was just a dormant situation for a number of years, until I started working on a film. I wrote a feature screenplay and started working on the film, and I needed a band for the movie. At this point, I had cast myself in the movie — mostly because I'm available and affordable — and I resurrected Tracy City to be the band. So, the genesis of despair over a funeral in Louisville and having lost someone, and bringing it back around to the present day where it's a spin off of a movie idea — it's pretty powerful.
What can you tell me about the movie?
The story is about a woman who has hit her middle-age empty nest situation — her kid has moved out, her partner of many years has moved on, and she's kicking up her heels a little bit, having a good time. Around the same time, though, her band, which was nominally famous about 25 years ago, is getting a resurgence of notoriety. But, of course, all anybody ever wants is the original lineup — so that means reconnecting with the original bass player, played by Heather Litteer, who's one of those loveable wrecks we've all got in our lives. Then, her kid, who had moved out is coming back, having sort of crashed and burned. It's a story about people who struggle with addiction but have stayed clean, which is a story we don't often see. And it's based on a lot of real life experiences from friends of mine and people who are still in the band after all these years. So, it's set in AA rooms and shitty Lower East Side bars and crappy apartments — it's real.
How do you describe the band's sound?
We've had people say that we sound a bit like the The B52's and Devo… you said X, which thrills me, because I love X.  
I know when you were writing, you got into the mindset of a band, not just at one point in time, but throughout the course of their entire career. So, you had to think about how they'd evolve, how their sound would change. What was that process like?
Right. Yeah, it's a band with an imagined history, and 25 years of sound. So, when the band started, they were a lot more no wave, and could barely play their instruments; so they did two chords over and over. Then they got into this art school sound, thinking about bands like The Bush Tetras, and then, they might have gone through their emo, shoegaze-y period — their loud, quiet, loud sound, kind of like the Pixies — before hitting a period where they experimented with surfier sounds or the blues. There are so many bands that I love that moved through so many sounds, especially bands from my parents' generation, like The Beatles or The Stones — these are bands that just decided to do something new. This band doesn't have that much of a range, but there's a more dirty blues-sounding L7 song, then there's a more Riot Grrrl sounding song that's just filled with despair…
 It's a really interesting idea, not only because of the fantasy aspect, but because you're in a position where you're never going to be locked in by genre — you can channel whatever you want, at any time.
That's been fun and liberating. I mean, we wrote six songs in two rehearsals. When we started, I had material ready to go and I'm just insane. I don't have a history of being in a band, kind of like my history with film-making, so I don't know how procedural things should be. I just do what feels right, and how I think it should be. In typical Aries fashion, that means it's going to be lightning fast. And I've always been that way. When I first started making movies, I just decided, 'Let's make a movie,' and I did it. This happened to turn out nicely, so I think the gods are on my side. But I'm also in a hurry because I think the world's going to end.
That's the true punk, DIY way.
Exactly. When we had our first gig, no one thought we were ready to do it. But I was like, 'No, we're going to do it.' And when we recorded our album, no one thought we were ready to do that. But I said, 'No, we're going to record it.' And it worked.
What about that punk spirit is so inspiring to you as an artist?
Oh my god, it's just so freeing. It completely liberates me from the mutiny from perfection. I would just be stopped dead in my tracks because I think everything has to be perfect. Every work I've ever done is sort of an act of deception — the only way I'm ever going to get anything done is to sneak around the back of my perfectionism. So, thank god there were bands like X or artists like Linda Barry, who showed me things could be perfect without actually being perfect. I haven't given up on quality, obviously, but I have to give myself some room — otherwise I just wouldn't finish anything.
You're from Jersey. What was the music scene like when you were growing up? Did it inspire the music you're making now?
I feel like my exposure to music, apart from going to places like The Loop Lounge, really started when I came to New York when I was 16, 17, 18. I saw all kinds of music — I was hanging out with my older brothers who were into prog rock and jazz. I saw Frank Zappa at MSG with them. Then I had a best friend, John — he was just so cool — and he introduced me to new wave like Bow Wow Wow and Gary Numan. We were obsessed with Nina Hagen. So, he really showed me that New Romantic sound, which I feel like I've been coming back to a lot with my music. It's really just a mish-mash of that classic, prog rock sound my brothers were listening to, and the new wave sound my friends were into. Then I learned about the Sex Pistols from another kid, and The Cure… I just got a boom box the other day and stuck a cassette in it just to make sure it worked, and it was a mixtape I made when I was in high school. It had a bunch of Siouxsie [and The Banshees] and "I'm Eighteen" by Alice Cooper. So, my taste was pretty varied.
But in the summer of '84, I saw so many shows — I think I went to a show every day that summer. So, I saw The Tubes, The Cars… I saw Stanley Clarke, Jaco Pastorious… I saw him wasted out of his mind and got his autograph for my brother, actually. But there was also a real resurgence at the time of a kind of '60s sound, so there were a lot of garage rock bands playing. And that really inspires me — the way time just comes back around. That's something I definitely think about when making my art.
I love the fact that the whole band is around the same age, too.
And we're all over 40 — all except for one of us, and she might as well be older. She's kind of our curmudgeon — and I mean that in the most loving way.
But I think that's amazing. And having gone to shows for so many years, how do you think the music scene has changed? Are there more women now?
I would say it's probably true that there are a lot more of us. But it seems like there was a lot more of an interest in live music back then. And I was always into bands that featured women. Like, I remember seeing The 5.6.7.8's, I remember seeing Lunachicks. But I was always the girlfriend of someone on the band, or the little sister. So, I focused on the visuals — I would make flyers and xerox them and pass them out, or I would take photos. It's really new for me to be on this side of it.
How has that been for you? Specifically, being on stage and performing?
I love it. And I've gotten over my adolescent shyness, because I've had to. But I've just always loved real performers, people like Nina Hagen, or someone like Catwoman. I just love crazy, wild women, and I get to play that part now. It's really fun. I think of more as a kind of theatrical performance, like a television or cartoon character.
What's the scariest part about being onstage?
That I'm going to bore people. I just don't want to let anybody down. They took time out of your busy lives to see me perform, and I want to give them a good show. I ain't no David Lee Roth or Beyonce, but I want to give them a good show.
Obviously, you're a photographer and filmmaker. Do you think there's a specific style in your visual work that carries over to your songwriting?
I would say so, yeah. I mean, I'm definitely no Sears catalogue. My work has always been in that rock 'n' roll, trash B-film genre. But I'm also not afraid of beauty — I'm afraid of fucking it up.
What do you want people to take away from your music?
I'd like for people to feel happy, encouraged… I'd like to give them a little jolt of joy. But more than anything, I think I just want to give people the opportunity to move around a bit, and express themselves — their fucking fear, or anger, or stress. We're living in a fucked up time. Things are going backwards, especially for women and queer people. If there's one thing I've learned from my shows and my performances, it's that people need that — they need to be in a room, moving around, screaming, letting their bodies rub up against each other, just letting it all go. People need to be doing that — not typing on their computer screens, alone, hunched over in the dark. 
What do you get out of performing in those spaces? And creating spaces for people to do those kind of things?
It's just an important thing to witness, and be a part of. And like everybody, I need to express my anger and despair, and the fear I feel. Like, I was really depressed after the election, and things get me down all the time. So, it's just really important for me to be around my community, around queer people, around women — people who get how I'm feeling, so we can all feel each other's pain and realise we don't have to kill ourselves or each other. We can just make art. That's the key.
If you're in NYC, catch Tracy City tonight at 8PM at The Kingsland in Brooklyn.
Photo by Katrina Del Mar, artwork by Zanne deJanvier