Get To Know Kristy Lee Peters, The Sydney Producer Backing Inclusive Creative Communities
"Empathy is a really strong tool."
Kristy Lee Peters — or KLP in the biz — has it all going on. The Sydney-based power woman is a DJ, producer, singer, songwriter, former radio host (yah, that was her fuelling House Party on Triple J for five years) and an excellent mum. And, if you can believe there's more, she also runs her own initiative called This Is Ricochet, which unites creative people from all over the industry to create one big fam via workshops and mentorships that focus on all the good stuff — health, food, beauty, passion and the power of music.
It's little wonder then, that Nike engaged her for their latest Air Force 1 'All For 1' campaign, since it deals directly in hard work (tick), authenticity (tick) and lifting people up through self-expression (tick). For the collaboration, she joins other community leaders and game-changers, including Remi and Baker Boy, in hosting workshops at Melbourne's Real Youth Music Studios (RYMS), run by Drummond Youth Services, for young people who have dreams to one day be in the same position as her. The intention is to set them up with tools to be the best they can be — in both their creative career and life in general — by teaching the importance of spirit and artistic communication, as well as teamwork and support as a source of strength. So important!
We managed to score some time with KLP to find out what drives her to keep doing so many good things for herself and for the community. And, with the help of our creative mate Freya Esders, we also got a glimpse of her positive energy and infectious kindness by way of a short film that's stacked with inspo.
Growing up, did you feel like you were part of a community? How did music play a role?
I grew up with a dad as a musician and I had a really good community around me. As I got a little bit older, it was harder to find my community and somewhere I found quite safe and accepted. So, I've started creating my own through some song writing workshops with women and non-binary artists — just really creating my own space and finding like-minded people out there in the world.
What is the one thing that makes you feel most at home? And the thing you miss most when you're away?
I think the one thing that makes me feel most at home when I'm travelling is music. So, I'm always listening to playlists and songs that I'm writing. I use voice memos quite a bit, and then I just write music all the time on the go, too… I'm just constantly trying to surround myself with music.
You left your job at Triple J to pursue your music career. What was the impetus behind that choice?
I was a presenter at Triple J for five years but a lot of people don't know that I was actually a musician first and foremost. The reason I got the job was because I had won some competitions on Triple J Unearthed with songs that I was releasing myself, and they approached me to do the show. I never sought out to do radio, it was just something that I loved doing, but it really was overshadowing everything I was doing as an artist. So it was really important to step back and, I guess, to close one door and open up other doors. I loved my time there but this year it's all about refocusing, releasing an album, writing lots of music and being able to play shows wherever I wanted and kind of streamlining and getting back to KLP as an artist.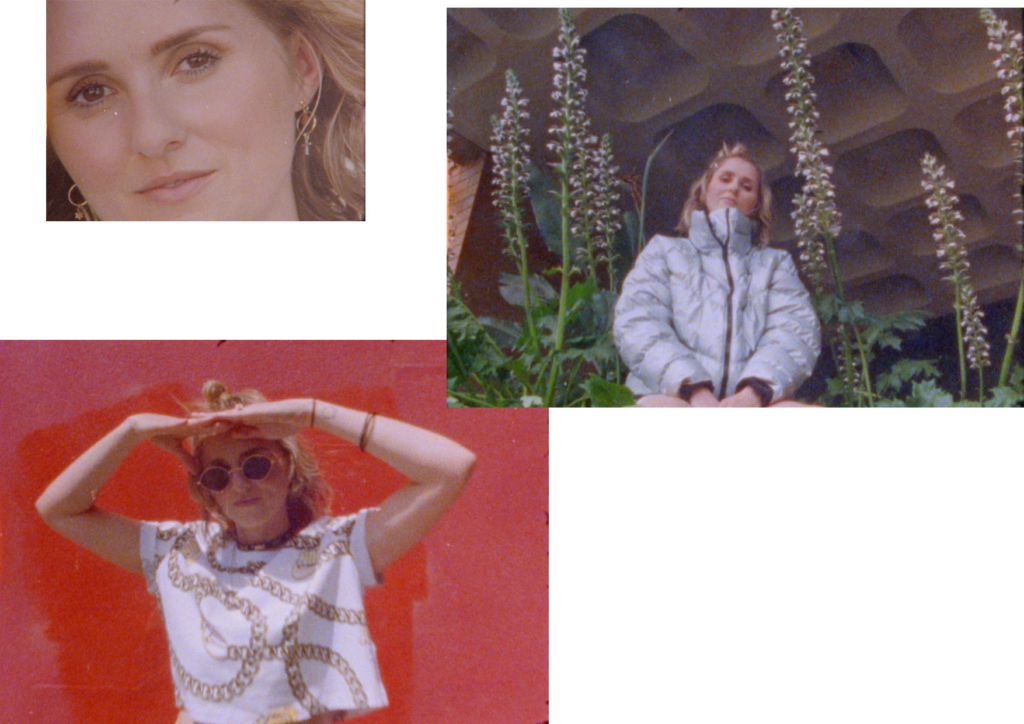 What was the scariest part about leaving? Do you ever regret your decision?
It wasn't a hard decision for me at all. I try to be really fierce and fearless with my decisions now throughout life and just kind of go for things. I would really prefer to go for something and fail than to not do something and stay safe.
Nike's AF1 Shadow pays homage to women who are setting an example for the next generation by being forces of change in their community — talk us through how and why you are trying to drive change in your community for this next generation.
Working with Nike and being a part of their force of change this season resonates with my overall philosophy in life – to try to make things open for everyone, to learn and continue to grow and be really accepting of everyone. It's something that I'm super passionate about. It also feels really natural and it comes easy because I'm surrounded by such great people — like Remi and Baker Boy, and all these other amazing forces who are just doing such cool things in the music world and in communities throughout Australia. I'm so excited and really honoured to be a part of such a thing. For the next generation, if I can try to provide spaces that are really inclusive where they can learn — I think that would just be a number one life goal for me. I also have an 8-month-old daughter and if I can be a positive influence in driving change for the community and in the music industry for her when she gets older, that would just be so, so fantastic to me.
"I would really prefer to go for something and fail than to not do something and stay safe."
Tell us more about 'This is Ricochet'. What motivated you to create it? What has been the most rewarding moment or experience so far?
I've set out to create Ricochet because I wanted to start making some change in the creative community. It can be really overwhelming to look at the big picture and think, 'Ugh, it's so hard for me to make a difference.' But I realised it's actually very simple when you break things down and you start making change within your reach — with the people or the different aspects that are really close to you. For me, that's running song writing workshops or running charity netball and sporting events — they are all really simple things. When you start to do one, they keep on affecting more and more people as you go. It is amazing how you can go from a really small idea, and then step after step, it grows and it escalates and ricochets on.
How do you think social media helps foster community?
I love that they've taken likes away because now it's just about creating nice content. It's taken the focus away from seeking approval from others — it's about what you're doing and why you're doing it, as opposed to the outcome of someone giving you validation through a like. I think it can be such a positive space — it's such a powerful tool — and hopefully the next generation can see that and start to use it with those intentions.
Since having your baby, you also finished your latest album. Has your view of the industry changed at all being a working mum?
My view of the industry hasn't changed since being a working mum — it's more my view on working parents in general that's changed. It's really hard — it's the mic drop of multitasking — and I have so much respect for anyone out there who is a parent, because it's really difficult and it's also emotionally challenging. When I went back to work, I was so excited to be doing things but as a working parent, you also miss your child. It's been another level of emotion that I've never experienced before.
On the topic of your music, what is your writing process like? How did working on your recent album help you get back in touch with your roots, musically or otherwise?
To write Giver, I set off on a writing trip all around the world — I went to Sweden, England, Germany and wrote with people who were pretty much strangers. It was really important for me to get out and extend my boundaries. So, in that sense, it was like the process of what I am doing with the RYMS workshop. I guess that's the beauty of music — it can really bring together people and unify people. Strangers from different continents, who don't even speak the same language, can come together and write songs and tell stories.
Looking at the perseverance it takes to drive change — is there an experience you had in your life (or career) that was difficult, where you wanted to quit, but found yourself pushing through?
I think that perseverance and being able to push through is an ongoing thing. I don't think it will ever really stop. The main change or difference is that you get better at doing it — the more you do it, and the more you flex that muscle, the easier it is. When you have a hard moment or a challenging time, you know that deep down you've got the skills to try and work it out and work through it. I know there's going to be so much more to come but I also know that I can handle any curve ball that the world tries to throw my way.
What excited you about working with Nike, and on this project with RYMS?
Anyone who follows me or sees me at gigs knows that I'm just a genuine Nike fan. I pretty much only have Nike sneakers and I'm not lying when I say that the Air Force One is probably my favourite shoe — I really, really, genuinely like them and I have worn them to the ground at sweaty gigs and dirty night clubs. So, it's been a really natural progression to start to build up a relationship with Nike and work with them in a space that involves the community, RYMS and young people — it just feels like a really natural fit.
What did you do with the RYMS team at the workshop and why is working with the community in different ways important to you?
Together, we are writing some music — coming up with some anthems that they can sing and be really proud of together — and also working with dance and movement. I've worked with many different communities throughout my career, especially in a song writing capacity — helping people tell their stories and craft music. But working with these amazing, crazy talented young people is just next level exciting. They have so much energy and so many things to say — such a point of view on the world — so being able to help them and facilitate the sharing of their stories and being creative is just so cool.
Best piece of advice you gave at the workshop?
If there's one piece of advice that I'd love the RYMS community to take away, it's just to be really true to themselves — to be fearlessly honest and kind to each other, be supportive and champion each other and what everyone is doing as a group.
"Empathy is a really strong tool."
What did you take away from the experience?
I feel like they taught me so much because they have no filter — they have absolutely no boundaries. That kind of energy is just so infectious. As we get older and have been in the industry for a while, it's easy to get self-conscious and to not stay true to your youthful energy — they just have that energy 110% on repeat. It's just so crazy that energy they have.
At home, what's the one piece of advice you'll always give your daughter as she grows older?
Little things often come into my mind and I can't wait until we can talk about them. But overall — just try to be kind and empathetic towards others. Empathy is a really strong tool. Once you get that, it's really easy to let things go and ultimately, it helps you stay happy. Hopefully I can just do whatever I can to encourage her to be really happy. Genuinely happy.
Produced by Oyster in collaboration with Nike
Video and stills: Freya Esders