Dana Dentata 'Trusts No Dick' For Oyster #117
Danavi$ion.
Don't go to a Dana Dentata show if you're afraid of a little blood. The Canadian rapper's live sets are sexy and gory in equal part, a marriage of the theatre of glam rock (in the early 2010s, Dana was the frontwoman and lead guitarist of Canadian metal band Dentata) and the eroticism of exotic dance (she's also danced at notorious Toronto strip club, The Brass Rail).
In 2018, Dana relocated to LA and has spent the better part of the last year at work on a follow-up to her debut EP, Danavi$ion, and her first full-length album. "I actually executive produced [the Danavi$ion] EP by sourcing free beats on YouTube," she writes us during a return flight from London. "I combed through hundreds of hours of songs and picked the gems." In the UK to shoot with Juergen Teller, Dana says she's feeling particularly triumphant. "During my teens and early twenties, my modelling agents always tried to beat the personality and attitude out of me. It was an honour working with an iconic genius like Juergen…I felt so embraced, and appreciated, and respected." No longer tolerating meddling managers and naysayers, Dana's vision of herself is resonating with fans around the world (including here in Australia, after a run of local shows in May). She promises "sick new videos are ready to go, the titles for both [upcoming projects] are ready, and the artwork too." Now, she says, she's just waiting for the official due date: "I can't even breathe until this shit finally comes out." Here, Dana tells us all about surviving LA, stripping, and her adorable demon baby.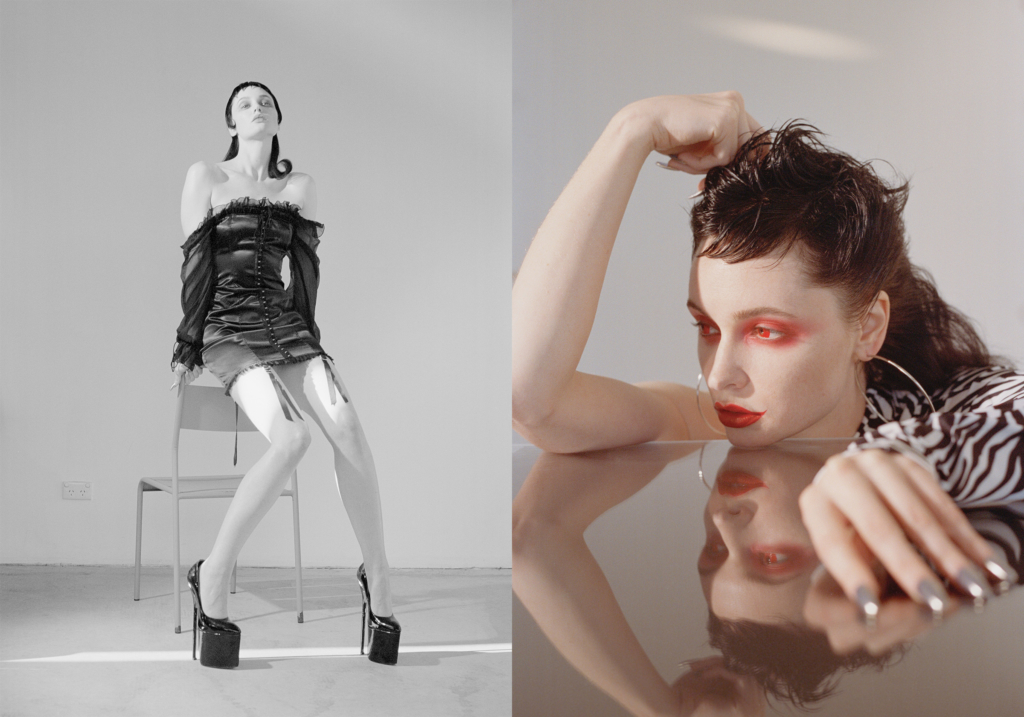 Harper Natoli: Most of the press we've read on you was focused on your transition out of metal and into rap. Do you feel like, after a year or so, the Dana Dentata project has found a home in hip-hop?
Dana Dentata: Those genres have always been married to each other, because they're based around attitude and darkness. I feel at home wherever I am. I am nowhere and I am everywhere at the same time, because I am not — and never have been — just one thing. People are afraid of something different, but I think people also really need that right now.
Tell us about what it was like growing up in Etobicoke, Canada. What sort of student were you in high school?
I always knew I was never going to need school for what I wanted to do in this world. I couldn't wait to get out [of school], I wouldn't even study for tests, I just didn't give a shit. I spent that time alone in my room learning about the things that interested me; researching music, living and learning from life. Modelling took me out of school a lot — which worked out in terms of my dad not really being pissed I didn't graduate.
Ha. And now you're living in LA. Where do you like to hang out? Who's in your LA inner circle?
I don't really like to hang out anywhere, I'll usually go to different places sporadically with different people—mostly houses or studios. I don't like routine. My inner circle in LA is really an outer circle, people from all over — different backgrounds and positions in the different industries that inspire me — who want the best for me. Lately what works for me is isolating myself from any kind of normal social agenda. Don't trust people easily and beware of the wolves in sheep's clothing.
You really go hard on your live shows, there's props, costumes, and rituals. It's pretty spectacular. Tell us about some of the wildest things you've done on stage, and how you plan a live set.
That means so much to me. I don't think of those things as shocking in my head, though they may be to others. I do think, "What does this represent to me, and to other women." After the recent changes to abortion laws in America I decided to have an 'abortion' on stage. I created it with chains, leather, harnesses, and of course a two-headed baby. One head was a little angel and the other head was a little demon — of course. You should meet my baby, they're so cute!
The set is planned purely from 'Dana Vision' —that's what all my friends call the crazy ideas in my head. What do I see when I close my eyes? I listen [to that] and [the set] goes from there. It's a pretty wild world and I'm so happy I finally get to share it.
When you're listening to beats, what sounds and what energy are you looking for?
What I feel makes [a beat] mine is when it makes me want to fuck, fight, or pole dance. Does it hit you in the nuts? Or do you feel something when you hear it? Those are my questions when I listen.
What song on Danavi$Ion are you most proud of?
I'm proud of every single song because it was the first time since the band, [Dentata], that I completely let go. I don't even think [the songs] are that great, but it was the first time I never asked anyone's opinion, just did and said whatever the fuck I wanted. I made that alone on my piece of shit computer with a USB mic. That was how I was able to truly develop my sound without some egotistical male fucking up my vision — hence why I called it Danavi$ion.
What elements of that EP — sounds, lyrics, whatever — were influenced by your time dancing?
It wasn't particularly the songs or the lyrics, but overall the kind of bad bitch I felt like making it, because of where I was at in my life. I hadn't written a song in years because I was in a really emotionally and mentally abusive relationship. I was also worn down from so much unearthed trauma that I just had no give in me. I was sick of fighting with producers and managers over my own art. I needed to crawl into a hole and cocoon. Then I went to therapy and went back to dancing. I was scared to tell the therapist I was going back to dancing because I thought it would be considered backtracking, but I was really lucky to have a cool therapist that was like, 'I understand, let's just make sure you are healthy emotionally, so you can make it a positive experience.' She taught me confidence and boundaries. My ex made me feel so ugly inside and out and going back to dancing made me feel strong, healthy, in control, adored and worshipped. It's not just physical. It helped bring me back to Earth.
Amazing. Alright, some quick ones before we let you go. If you were a Pleaser, you'd be…
Classic clear with no platform. Iconic and timeless, and goes with everything.
Star sign?
What are the classic traits you relate to? Leo AF. I'm the most Leo that ever was. I won't take no for an answer or back down from a challenge. I want what I want. I need love.
Say someone's getting a Dana Dentata lyric tattooed, which line do you think they should be reading and living out every day?
Trust No Dick, of course. Short, sweet and effective. And if you're gonna get a tatt, that one's gonna be iconic forever.
words HARPER NATOLI, photography MIA RANKIN, creative direction and fashion KURT JOHNSON, hair RORY RICE @ LION ARTIST MANAGEMENT using ORIBE, make-up JOEL BABICCI