An A-Z Of All The Loudest And Best Looks From London Fashion Week
~Dreamin of u~
Earlier this month, Fashion Month kicked off in New York, where we got a little bit of everything from a staple of brands. There was Dracula-inspired romance at Rodarte, sexy diamantes at Area, and a new take on the bandage dress at Dion Lee; then there was floral everything at Collina Strada, sophisticated glamour at Proenza Schouler and a super cute nod to Madeline the school girl at Marc Jacobs, who always closes out the week. But if NYFW this year was cool, London Fashion Week was loud.
This season, our favourite UK brands channelled so many different references — from sustainability and global heritage at Burberry, to punky London energy at Richard Quinn; triangles at Christopher Kane and "nouveau chic" at JW Anderson, to '80s silhouettes and pop cultural icons like Albert Einstein at Ashley Williams; a love letter to the Bright Young Things at Erdem, to Dilara Findikoglu's signature avant-goth; Simone Rocha harnessed the Virgin Mary and at Fashion East, London's youngest designers went full on — that honestly, the only thing we could connect between all the collections we liked was: they were dope AF.
That's why, we've rounded up a few of our favourite moments (in no particular order), below:
Burberry
Ever since taking over at Burberry, Ricardo Tisci has dedicated himself to reinventing the brand while also diving deeper into its original history. For FW20, that manifested in new and classic versions of the Burberry check and a collection that similarly married Tisci's personal history with the brand's, delivering a collection that was distinctly British, but with a nod to the rest of the globe.
Richard Quinn
With Brexit looming, there's an anxiety permeating many young designer's Fall collections; but not Richard Quinn. It was floral and pretty and punky and over-the-top, just the way we like it. Give me a floral and polka-dot poofy-sleeved mini with a latex face mask any day. Swoon.
Christopher Kane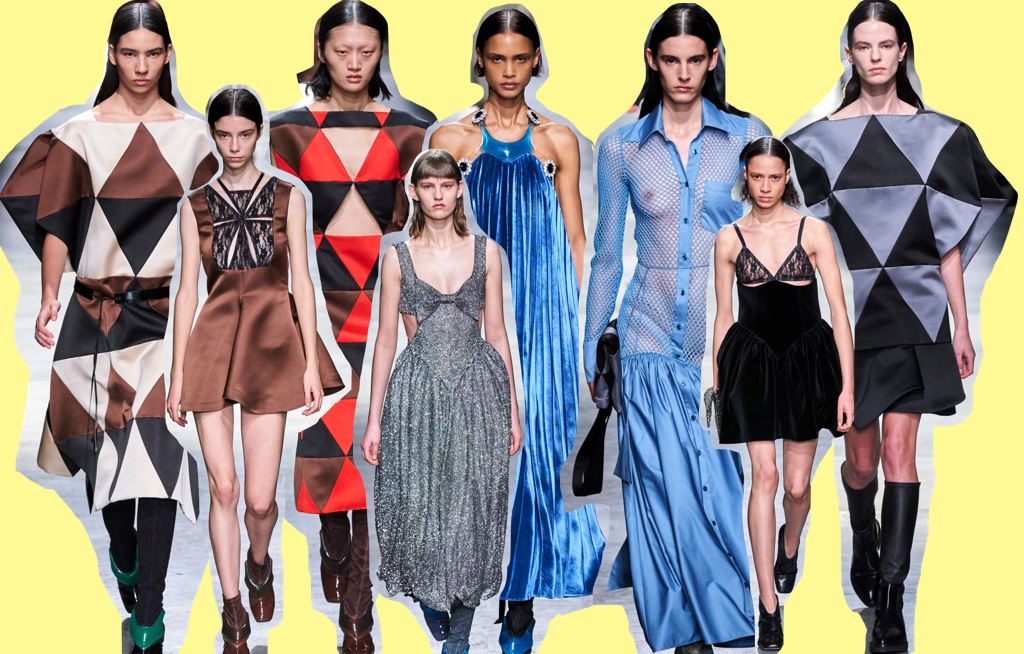 Over the last few seasons, Christopher Kane has been inspired mostly by sex. For FW19, he celebrated kinks, emblazoning dresses and tees with different fetish genres like "rubberist" and "slosher." More recently, he released his "More Joy" line which featured a vibrator. For FW 20, sex was still on the designer's brain, but in a more subtle way. The result was lacey minis, big bows and whole lotta triangles, which, honestly, I never realised could look so good.
JW Anderson
JW Anderson is the kind of designer that vacillates between doing very little with his looks and going all out. This collection was an exercise in the latter, with metallics, volume and luxe fabrics. But just when you think he might've gone too far, he shows something more subtle, like the blazer dress, black minis, knit coat dresses and a camel trench he presented this season. The difference is, his staples still have one detail that keeps them weird.
Ashley Williams
Without a doubt, every season, Williams delivers the best slogan shirts. This season, it was, "In dog years I'm dead," paired with an airbrushed kitten skirt.
After a brief hiatus from the Fashion Week calendar, the designer returned with a collection that dove into all the weird pop culture stuff people seem to put on t-shirts: airbrushed dollar bills, Grateful Dead bears, pop culture icons and diamante "Angel" titles. But Williams has a way of doing it in a way that is totally self-aware. Her clothes have a sense of humour often lacking in the dry, over-serious, pretentious world of fashion. And who wouldn't want Albert Einstein airbrushed on an oversized shirt?
Erdem
Erdem showed one of our favourite collections this season. Inspired by Cecil Beaton's Bright Young Things, the range was just… bright and young. There were florals, rich fabrics, more metallics — it was pretty but wild in a way that Erdem usually shies away from. Also, the first look down the runway was probably the best leather trench jacket (or maybe it was a dress?) I've ever seen. So, I'll be saving up for the rest of the year.
Dilara Findikoglu
Turkish-born London-based designer has built her career on a high fashion version of the mall goth aesthetic. So, naturally we're into it. This season, she continued to elevate her brand, moving away from the cut-and-paste Marilyn Manson shirts she used to make (though we still love those) for a more refined version of her dark romantic ethos. Though I'm never quite sure if her collections are quite wearable, I like looking them, and frankly, that's enough.
Simone Rocha
No question that Simone Rocha knows how to do pretty. This season, the designer channelled "procession, baptism; birth, life, and loss," which, though it sounds pretty serious, was actually super refreshing. Using her signature tulle fabric, the designer actually brought in some prints, and briefly stepped out of her usually black, white and red palette. All I know is, I want to get married ASAP so I can wear one of her cream dresses.
Fashion East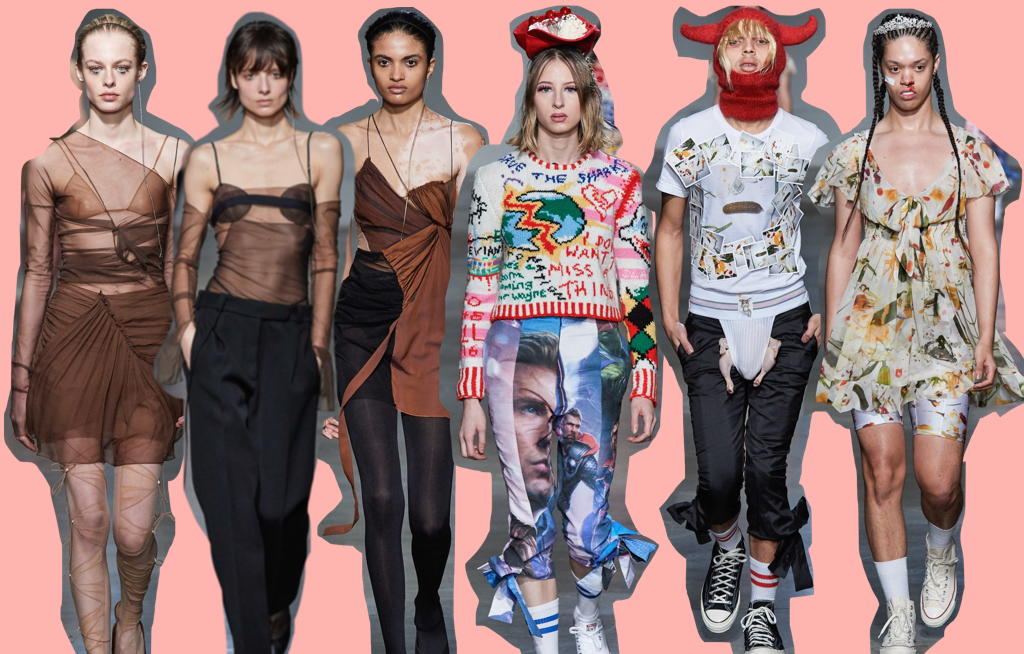 Last but not least is Fashion East, one of the most anticipated shows each season, because its a showcase of all the new exciting talent. The incubator has spawned basically every London designer of note (including a few on this list), from Kim Jones to Gareth Pugh to JW Anderson. For FW 20, there were five designers: Gareth Wrighton, Saul Nash, Goom Heo, Nensi Dojaka and Ancuta Sarca. Wrighton and Dojaka were definitely the highlights. Dojaka's looks were sheer and simple; Wrighton's weren't. The designer even debuted a dress made fully of used makeup wipes, one splattered with ketchup and mustard, and a crown made of Cheetos. It was dystopian and futuristic (and sustainable, I guess?) with a little bit of Courtney Love. Into it.
Images courtesy of the brands
Designer collages: Oyster