Peep the Trippy New Vault By Vans x Aries Collab
Go Your Own Way ✌️
We've been obsessed with Vans forevs… And we're not alone! Championed by everyone from OG skate bros like Tony Hawk and Tony Alva, to pop-culture icons (and Oyster favs) Zendaya and Frank Ocean, you can wear the right pair of Vans with anything. And with the insanely hard to get your hands on collabs they do through their Vault by Vans sublabel, they've got skate world and high fashion cred — so, basically, they're the ultimate DGAF footwear.
The brand has channeled that ethos into their latest release — a collab with cult streetwear fashion label, Aries. Started in 2010 by Central Saint Martins grad Sofia Prantera and UK-native Fergus Purcell, Aries celebrates subcultures and creative expression, mixing modern slacker style with a dose of PLUR energy. Eternally inspired by rave culture and vintage skateboarding, they're a perfect pick for Vans, and their new Vault drop is an ode to outsiders everywhere.
With six shoe styles and a curated selection of apparel items, the limited-edition capsule is all bright colors and good vibes (massive joints recommended, but not included) — giving us the kind of energy and outfits we've all been craving. There are tiger stripes, weed leaves, and, of course, tie-dye — AKA patterns to keep us chilling from the last few weeks of summer until… well, forever.
For those mad for details: Aries has reimaged Vans' classic OG Sk8-Mig LX shoe with two bold colorways — the tiger stripe and the weed leaves — and given their Era LX and OG Chukka LX styles a hippie update with some trippy tie-dye. But the piece de resistance is the OG Authentic LX — Vans' very first shoe from way back in '66 — which you can get in muted versions of either the weed motif or the tiger stripe. In the leaf version, the multicolor flower pattern covers the uppers next to pink, black and yellow striped laces, an Aries branded typographic foxing stripe, yellow color blocking on the sole, and art nouveau bordered text sidewall art. Dope AF. The tiger style features an all-over black tiger stripe on the tie-dye uppers and white sidewall, yellow color blocking on the sole, yellow black and white striped laces, an orange typographic Aries branded foxing stripe, and finished off with a fuchsia heel stripe and teal "Off The Wall" heel logo alongside Aries branding (also in tiger). Translation: it's a technicolor dream sneaker.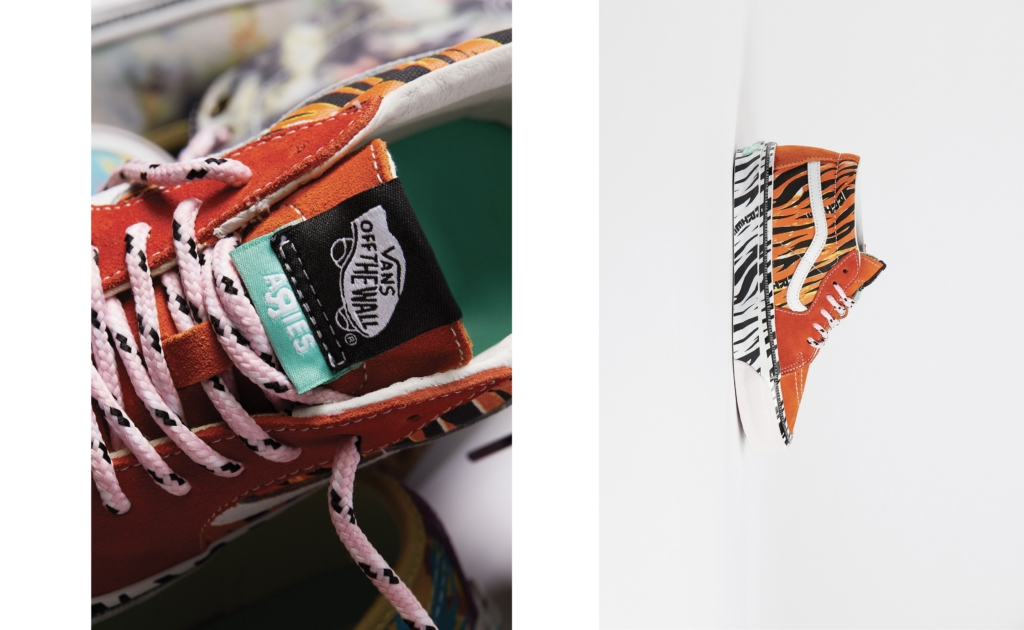 The clothing from the drop follows the same inspiration and deadstock feel, with the Vault by Vans x Aries Trip Hoodie — a sweatshirt with a bold '80s-inspired cross that reads "Art Trip" on the back, and a combined Vans x Aries logo on the front. That's a trip we're def down to take. The capsule also includes a tie-dye t-shirt and a jacquard beanie, featuring inverted versions of the Vans and Aries logos, another nod to the way both brands "go against the grain."
Talking about the inspo behind the collab and its prints-on-prints-on-prints aesthetic, Prantera remembered her days working at London's Slam City Skates. "We had a vintage 'customize your own Vans' poster, which seemed to allow you to mix and match prints for every part of the shoe. We wanted the collaboration to follow this accidental recipe," she said. "Same colors don't quite match like they have been made of found pieces of material; graphics and logos are incoherent; random apocalyptic stories appear on the soles; while the phrases 'Go your own way' and 'Art Trip' reinforce the message of individuality and rule-breaking that is shared by both brands."
Everything in the collection — which is screen printed and made either in the USA or Italy — is a modern maximalist take on the hippie raver fantasy… And if we can't make it to IRL music festivals this summer, at least we can put on this Vault x Aries capsule, turn up the music and chill TF out. It's like the old saying goes: Put On Your Vans, Tune In, Drop Out.
The only bummer will be if they sell out before you get your hands on 'em.
Vault by Vans x Aries will be available from early September at Vault stockists including THE GENERAL BROOKLYN BY VANS and VANS MEAT PACKING in New York, and select online sites including ARIES, SSENSE, BODEGA and THE WEBSTER.
Check out The Drop List, a calendar of Vans' most exclusive product drops, for more info on how to cop the collection.