Paloma Elsesser Models, Writes, Makes You Wanna Be The Best You
Paloma for President.
Paloma Elsesser is a writer, model and all-round megababe based in New York City. You might remember her from such great campaigns as Lonely Lingerie's body-positive SS16 offering or Pat McGrath's Golden Makeover series (that also starred Bella Hadid). Also, if you're into trivia and Instagram stalking you may have realised that she's the sister of genetically blessed skater and romantic dude Sage Elsesser.
The LA-born model is striking and intelligent and she uses her clout and influence to promote positivity and self-love. Whatta girl! We caught up with Paloma in NYC to talk hard work, Instagram realness and her future (fingers crossed) as a talk show host.
Ava Nirui: Were your parents creative or into the arts?
Paloma Elsesser: I grew up in LA, LA proper. My dad was a musician and my mom was a teacher, writer and just has a really creative compass. My siblings were always super pushed and inspired in the creative industry. I love to write and my mom was really nurturing. I [grew up thinking] I could be anything.
I moved here for school when I was 18 — I was at The New School for psychology and literature. My passion is writing and it has been my whole life, poetry too, which is what I what I was in school for. Growing up I always surrounded myself with weird outsiders and I've always been outgoing and had a big friend group who are very supportive and innovative people. 
Do you feel like you identify with the LA or NY lifestyle more?
I definitely think I identify with the New York lifestyle more. A lot of people think I'm from NY which is funny 'cause it's not like I'm not one of those girls who wears Yankees hats or something; I just identify more with the lifestyle and culture. I'm quite a manic person, I like fast moving things and change. LA fosters a much more chill idea of life and how to go about business. It's not as quick, and I had trouble adapting to that even though I grew up there. I always felt alone in that way. There are not as many communities of people doing things in the same way, everyone here does something — in LA it's like, "That's my homie and they work at a bagel shop", not that that's bad… You're still homies with the same interests but it's just a different hustle. For me, New York has been such an integral part of my growth, work and inspiration. Obviously New York is shifting a lot but its foundation is based on authenticity, which LA glazes over. 
Do you think being surrounded in all these creative people who are excelling inspires you to do better?
For sure. It's both inspiring like, "I gotta get my shit together" and you're also thinking, "I'm never going to be able to do that"; it's a weird duality. That's the crux of just finding your own path and your own voice and style. I feel lucky that I have had a clear idea of self. So I think it's motivating but also hard. Even as a writer, reading a book you love and being like, "Wow, I'll never write like this, I'm shit" but most of the time you just wanna push more.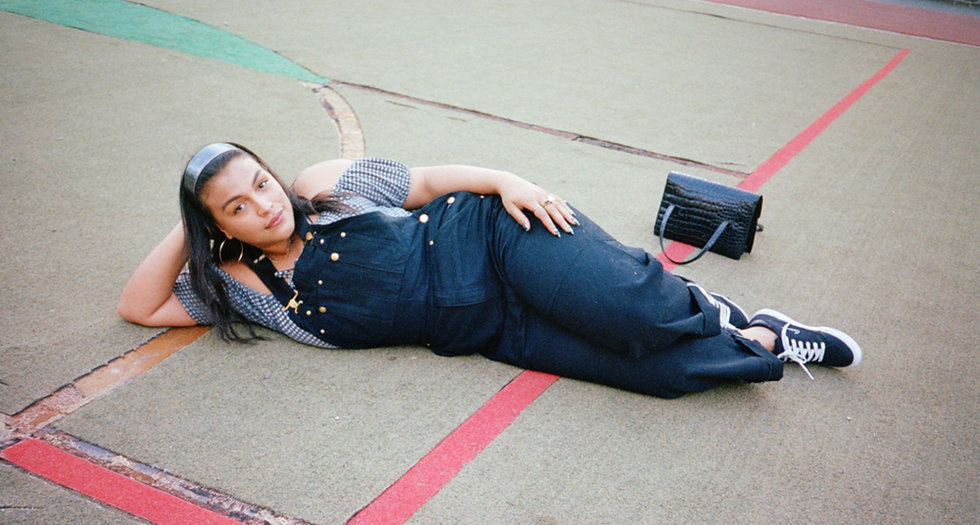 How did you get into modelling?
The internet really offered a space for me to thrive. I wasn't scouted in the mall as a kid, it just kinda happened naturally 'cause of Instagram, and New York, and being visible which is cool. Things just started rolling in. Timing was in my favour 'cause the internet acted as a catalyst for the fashion industry to change and be more open 'cause people demanded it.
Statistically, how much time do we spend on our phone?
If people are garnering a following through social media, we wanna see that outside our phones too. I started booking jobs and doing influencer-y stuff which is cool 'cause that means people want you for you. Instagram has been a major proprietor of that demand.
With a big following also comes a lot of bullshit, do you ever get weird/nasty comments or DMs?
Seriously, I don't get that much weird stuff. It's so crazy! Sometimes I get stupid Tumblr anon comments, but generally I don't get that much. It's more an outpour of girls in my DMs being inspired, which is amazing and inspiring for me. In terms of weird stuff… I guess a few dick pics here and there. I also think it's hard and annoying on the other side 'cause my aesthetic isn't like that sexually charged… like I am sexual, you just wouldn't really be able to tell. Some women are like that and more power to them, but then they have to combat this bullshit like it's an invitation. If it is a dude being thirsty to me, they're like: "You're wifey" or something. Thankfully I don't get that much bullshit. I feel lucky 'cause I'm really sensitive!
What has been your favourite modelling job to date?
Probably the Lonely stuff or the work I have done with Pat McGrath. Lonely didn't even feel like work — I was with my friends Mayan, Zara and Emma, aka Arvida — so it was just us going to weird places in the desert and taking photos. I felt so comfortable, that kind of shoot could make anyone nervous and I just trusted them. I really respect their work. You can tell that the photos were taken by a woman — they're very respectful and tasteful. They just make people look beautiful without being overly retouched. The stuff I have done with Pat [McGrath] is amazing 'cause she's such a superpower, and she's very special, and makes everyone on set feel special. She's so involved and is looking on the monitor like, "Oh my god, major! Incredible!" so that's sick.
Obviously in the last few years the industry has become more diverse, how had this impacted you?
It's paved the way for me. I think it's so cool but we have so much more work to do. Obviously 90 percent of it is positive but I also sometimes feel pigeonholed. What's proving to be the reality right now is there really is room for everyone and everyone has a place. Everyone needs to be represented and companies are now getting it. People crave to identify and it doesn't have to be striving towards some unrealistic colour, financial space or size. Everyone wants to feel like theres someone out there like them. 
What do you hope to do in the longterm?
I wanna do it all. I wanna continue modelling and hopefully ageism won't play in the industry so much as I progress. I would like to roll it over into being more active and having a voice. I would like to do some sort of talk show or something that piques my interest with people, which is why I studied psychology.
Photos and text by Ava Nirui