Simone Rocha, KNWLS, Supriya Lele & More: Our Favourite S/S '22 Collections from LFW
🔥🔥🔥🔥🔥🔥🔥🔥🔥🔥🔥🔥🔥
Another London Fashion Week… Normally, we'd be exhausted by now, wondering how many more fashion shows we could possibly go to. But after being locked TF down for almost two years, we're running on a full freakin' tank… and we're ready to froth over some looks. Obvi, London did not let us down, with brands coming out of quarantine to show us their S/S '22 collections. After a rough few years, labels like the recently renamed KNWLS, romance connoisseurs Simone Rocha, the latest LVMH winner Nensi Dojaka, Bulgarian sweethearts Chopova Lowena, British-Indian designer Supriya Lele and our fav cult weirdo JW Anderson have one thing one their mind: fun. While totally different, each of the collections made it clear that Spring '22 is going to be the season of getting out of the house in barely-there clothes and tearin' things up again.
Whether you're in a dreamy babydoll from Simone, a trippy kilt from Emma Chopova and Laura Lowena, a cowboy hat from Charlotte Knowles and Alexandre Arsenault, the duo behind KNWLS, or rocking some high fash cutouts from Lele, psychedelic knits from Anderson, or sheer anything from the buzzy Dojaka, we're certain that by 2022 we won't ever remember where home is. In fact, we might need to take a self-prescribed lockdown after all we're going to be getting in to.
So, start making plans… We're busy thinking up all the places we're going to wear the below looks — our favourite from this year's LFW.
Nensi Dojaka
Everyone has been talking about Albanian designer Nensi Dojaka. Less than one year out of Central Saint Martins, the designer has already developed a cult following for her sheer asymmetrical looks, counting stars like Dua Lipa and Oyster #109 cover girl Emily Ratajowski as fans. Oh, and did we mention that she just won this year's LVMH prize?
Just two weeks after taking home the coveted award, whose previous recipients include Marine Serre, Wales Bonner, Marques' Almeida, Hood By Air, and another recent inventor of the cool girl uni, Jacquemus. Dojaka's work actually reminds me a lot of Jacquemus' — the ease, the way she mixes simple silhouettes with unconventional  details — but in a few short years, the designer has established her own style and signature. Spring '22 was a practical opus of that signature, with mostly black minis, bodysuits, tights and bras, all sheer, sophisticated and sexy.
Simone Rocha
No one does romance quite like Simone Rocha. Having just given birth to her second daughter, the designer's S/S '22 collection was inspired by childhood innocence, the concept of birth, new life and beauty. Taking place at a medieval church in London, the collection was all about texture — lace, taffeta, leather — and volume.
"I was looking a lot into the way children interpret and wear clothes, but then also birth, the ceremony of christening and communion gowns," she told Vogue. "And baby pointelle knits, the ribbon threaded through the eyelets. And mohair baby cardigans. And Swaddling. And at the out-of-control body dislocation that going through the whole process causes."
Another thing that was out of control: how truly dreamy the collection was.
Supriya Lele
If one thing's for sure it's that skin is really in. And at Supriya Lele, we saw lots of it, with see-through beaded skirts, tiny bra tops, sheer dresses and cutouts everywhere. But Lele has a way of doing sexy that is modern and elevated. Clean lines juxtaposed with just a little femininity.
As a designer, Lele has made a name for herself in the fashion world by fusing British high fashion with details from her Indian upbringing. This season, she continued the tradition, with crop tops and silky pants that nodded to the sari tradition, and bright colors sprinkled throughout the collection.
From the black ruffled top and sheer harem pants that opened the show, to the the stunning ruffled shrug, cutout bodysuit and low, low waisted skirt that came at the end, we honestly want to wear every look… And we're already dreaming of all the places we can wear them.
KNWLS
Design duo Charlotte Knowles and Alexandre Arsenault have spent the last few seasons perfecting their style at KNWLS (previously called Charlotte Knowles before a rebrand this season). Now, their pieces are instantly recognizable. The brand has perfected their take on futuristic cool girl, with corsets, layered mesh and sheer two-piece sets.
This season, we saw those same signature styles in new prints and with a lovely added bonus: cowboy hats. With Lil Nas X covering Dolly Parton earlier this week, we already knew this was the year of hot country sweetheart… And now KNWLS has given us the perfect wardrobe to make our dream into a reality. Of this season's customer, the designers said: "She's someone who goes out and gets what she wants." For us, that means all 30 looks in their S/S '22 collection.
Chopova Lowena
Known for their kilts and Germanic cottagecore vibes, Chopova Lowena is one of the most exciting new names in London fashion. This season, the brand got a little psychedelic, bringing in tie-dye, neon patterns and knits paired with their signature tartan minis. Punky and off-kilter (get it?) the brand is for fearless people who want to make a statement. S/S '22 is no exception — you'll definitely be the life of the music festival in their sheer graphic tops, fuzzy dresses and patterned bodysuits.
We'll take one of each.
JW Anderson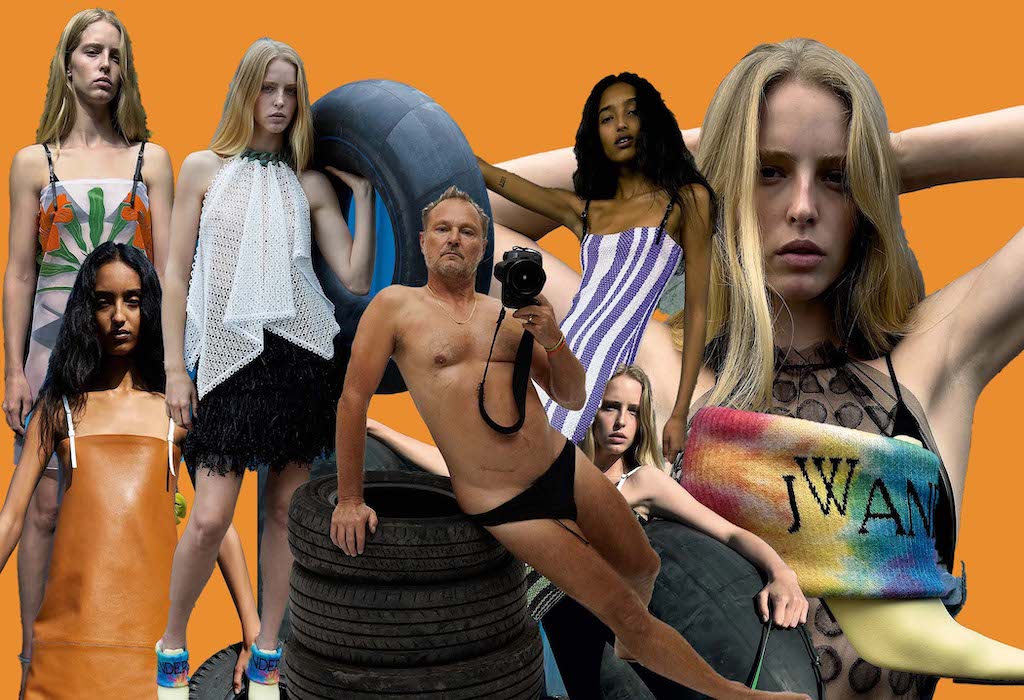 Rounding out our faves from this season is none other than British bad boy Jonathan Anderson. For his JW Anderson S/S '22, the designer didn't do a traditional runway show. Instead, he tapped photographer Juergen Teller to shoot a freaky new lookbook.
"Before the pandemic, I was showing a lot to gravitate attention," he told Vogue of his decision to opt out of this season's fashion calendar. "But what I've learned is that you have to have a very focused edit. You make your own pace, show what you want to show. My biggest fear is coming through the pandemic and not having changed."
Even without a show, Anderson made our list… I mean, the lookbook is as crazy as any runway presentation, with Teller himself in a Speedo making a few cameo appearances. But the collection is just what we've come to expect from the brand: classic but with just the right amount of weirdness. Think: voluminous knits and beachy sheer dresses paired with architectural accessories. Tires sold separately.
Images: courtesy of the brands