#NeverForget Style Edition: It's Been 27 Whole Years Since Hole Released 'Teenage Whore'
And like, 10 years since I was one.
Earlier this week, Courtney Love posted on Instagram, reminding everyone that it's been 27 years since Hole released their first single, 'Teenage Whore'. God, that makes me feel old.
Released September 24, 1991, 'Teenage Whore' was written by Love and produced by Kim Gordon and Don Fleming.
Of course, this was just the first Hole single — and the first Hole single I ever heard, though many years later — and Courtney would go on to release the seminal Live Through This (my teenage bible) and critically/commercially acclaimed Celebrity Skin.
And during all of this, she had killer style. I mean, Courtney Love is basically the reason Tumblr exists, let alone countless grunge appreciation blogs. And Saint Laurent SS16 (or anything Hedi Slimane has ever done) wouldn't have existed without her.
So, let's have a moment of silence for our youth, and celebrate CL's best dressed moments.
NEW WAVE
Before 'Teenage Whore', before Kurt Cobain, even before Hole, Courtney was just a winged eyeliner-wearing New Wave punk with a flipped out pixie cut and pink leggings. True story.
TEENAGE WHORE/KINDERWHORE
We can't talk about Courtney Love's style without talking about Kinderwhore. Around the same time that 'Teenage Whore' came out, Courtney started wearing her signature look: vintage babydoll dresses, ripped stockings, messy hair with pink barrettes and mary janes. I, for one, tried to copy this style for basically my entire adolescence. So, it's definitely at the top of my list.
MISS WORLD
By the time Live Through This came out in 1994, Courtney had perfected her kinderwhore and moved on to her prom queen/Miss World vibes. This is the era that Hedi Slimane just can't get enough of. Think: lots of silk dresses, and, tiaras, natch.
WEDDING DAY
Anyone with even a slight interested in Courtney Love and/or Kurt Cobain has seen their infamous Hawaiian wedding photos. For their big day, Courtney wore a vintage silk dress that was previously owned by '30s movie star, Frances Farmer, and Kurt wore…..pajamas.
ERIN BROCKOVICH
Definitely one of Courtney's most underrated looks. This was 1995, after Kurt's death, when she was trying to clean up her image. Love appeared on Barbara Walters looking like Erin Brockovich in a pantsuit, chain-smoking cigarettes. We were into it.
HOLLYWOOD
1997 was a great year for Courtney Love. She had semi-successfully cleaned up her act, and turned the public's opinion of her — at least, momentarily. Then, she starred in The People vs. Larry Flynt and got invited to the Oscars. Her silk Versace dress and bang/bob clean-up was nothing short of iconic. Probably the invention of the phrase: YAS QUEEN.
CELEBRITY SKIN/GOLD DUST WOMAN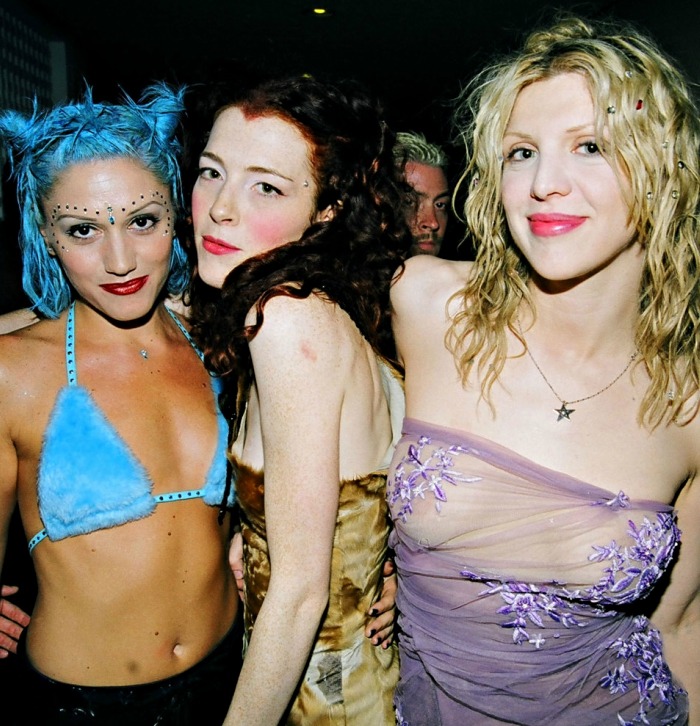 1998 was another good yea for Court. She hung out with Gwen Stefani at the MTV Awards (see above), Hole released Celebrity Skin, and she started going with her 'Gold Dust Woman', fairy princess kind of vibe that featured lots of sparkly tube tops and butterfly hair clips.
AMERICA'S SWEETHEART
This was a weird time for CL's style — she was part cool mom, part Josie and the Pussycats. This was the time she cut off her hair into the flippy bob everyone either had or wanted à la Mary-Kate and Ashley. But you can't blame her — this was a weird time for everyone. It was the early 2000s, people like Paris Hilton were reigning supreme, and she was stuck between her previous ethereal phase, and more classic American thing. Sometimes, she'd wear literal fairy wings on stage; other times, she went with crop tops and daisy dukes. Obviously, she was a little confused, but we were fans of all of it.
SUNDAY BEST
Thing took a turn for the worse for Courtney around 2004, until, well, pretty recently. She got sober, she fell of the wagon, she got sober again, and that brings us to more recently. In 2013, Courtney starred in Saint Laurent's campaign, and ever since then, has been a staple at Paris Fashion Week, sitting front row at shows like Gucci, Givenchy, and of course, YSL, and hanging out with models like Bella Hadid. Because, you know what they say about style?
Images/GIFs: Tumblr/Giphy