Reality Shows To Binge While Escaping The Reality Of Your Own Family This Holidays
Netflix and bail.
It's no secret that the holidays can be stressful AF. You're trying to get all your work done in time to chill, then you're chilling and feeling guilty about not working; there's financial stress; presents to buy; traveling; insane lines literally everywhere; and the envy of people who look forward to spending time with their families each year — just kidding! I've always thought they were completely insane! Because no matter how much you love your family, the holidays make people nuts. And being confined together… Well…
That's why, this year, I'm going to spend the next few weeks curled up in bed watching every single reality show I haven't seen, plus all the ones I have. I don't know about you, but watching other people's pettiness and fights about pasta (JK, it's not about the pasta — Vanderpump Rules fans, I see you), just make me feel a little less alone.
And so I don't have to add finding your gift to my list of holiday stressors, I've rounded up the only reality shows you need to watch this season. You're welcome.
The entire Real Housewives franchise
There's something to be said about a classic, and the fact is: reality TV wouldn't be what it is today if it weren't for The Real Housewives. Plus, there's something for everyone. Frankly all the cities are great, and you can't go wrong (or right) with any of them. But if you're:
Southern: Real Housewives of Dallas
Enjoy B-List actresses and a Hollywood cameo every so often: Real Housewives of Beverly Hills
A Gemini: Real Housewives of New York
Want to be bummed because it's no longer on air: Real Housewives of Miami
Into The Sopranos: Real Housewives of New Jersey
Into The Crown: Real Housewives of Cheshire
Want some Aus hometown flavour: Real Housewives of Melbourne OR Real Housewives of Sydney
Someone who always roots for the underdog: Real Housewives of Potomac
Shady: Real Housewives of Atlanta
A purist: Real Housewives of OC
Looking for a political spin: Real Housewives of D.C.
Like petty drama: all of the above
There's also: Athens, Vancouver, Les Vraies, Auckland, Toronto, Hungary and Johannesburg, with upcoming seasons in Bangkok, Napoli and Salt Lake City.
And with the exception of some of the international ones, the OGs are all on Hulu.
Vanderpump Rules
Since you started with Real Housewives, it only makes sense to move onto to Vanderpump Rules. VPR is like the Housewives, if they were younger, drunker, and all hooking up with each other. Plus, Lisa Vanderpump is in it.
Sadly, though, the "most intense season ever," according to Bravo, doesn't premiere until January 8. Though is it really sad if that gives me the reason to stay horizontal for another week or so?
Yummy Mummies
A little Aus love. Even though, TBH, Yummy Mummies is probably the most insane premise for a reality show… ever. Three hot — err, yummy — soon-to-be mum friends in Melbourne start an Instagram, natch. So far so good. But then another Versace-obsessed yummy mummy in Adelaide gets jealous, starts her own account, and tries to compete for the title of Australia's yummiest mummy alongside her own mum, whose somehow even crazier than she is. And that's just Season 1. If you get to Season 2, things cool down a bit (mostly because Maria and her mum are gone), but it's still fun. And on Netflix.
90 Day Fiancé
90 Day Fiancé has all of the makings of an amazing reality show: dysfunctional couples and U.S. Immigration laws. Basically, the show follows couples (one from the U.S., one from elsewhere) as they try to navigate their relationships while applying for marriage visas. Once secured, the duos have 90 days together IRL to actually get hitched. Spoiler alert: those 90 days are many of the couple's very first times meeting each other in person. Another spoiler alert: things don't go that well.
No matter what happens to the couples, I guarantee this is how you'll feel after binging all seven seasons:
And if that weren't enough, they also have a number of spin-off shows, like 90 Day Fiancé: Before The 90 Days and 90 Day Fiancé: Happily Ever After.
The Only Way Is Essex
We can't make a reality TV list without TOWIE. The show is on basically non-stop (seriously — it's on its 25th season in only nine years) and is totally batshit. Think: Vanderpump Rules with a lot more techno music and vacations in Marbella.
The most recent season of The Bachelorette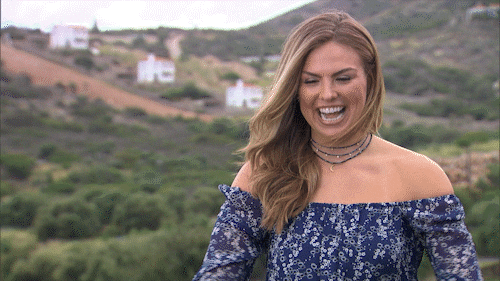 If you didn't watch last season of The Bachelorette…
But you should start at the beginning. With the new season of The Bachelor premiering January 6, you'll get to know the new bachelor, Pete; but more importantly, watch Hannah tell off not one, but multiple fuck boys… before having sex in a windmill.
I won't give you a spoiler here, but Hannah's choice in the end makes zero sense and the result is, well… I'll let her tell you:
How To Get Away With Murder
By this point in your binge, your family is either going to be furious that you've missed most (read: all) of the holidays (and well into 2020)… or they'll have forgotten about you completely. But you might be feeling a little overwhelmed by all the drama.
That's why we're giving you a little non-reality palate cleanser: How To Get Away With Murder. The ABC thriller is currently mid-way through its final season, so you have a whole six and a half to catch up on while the show is on its winter break. Also, it's so bonkers, it makes Ramona, Jax, Gemma, Luke P. and co. all look functioning, responsible, kind and sane.
Below Deck
Back to reality… TV. Compared to the other shows on this list, Below Deck is fairly new, and not nearly as popular. But the Bravo show should not be underestimated. There are a bunch of hot young twenty-somethings in exotic locales working hectic jobs. Mix that with hook ups, tons of alcohol, tempers and a super tiny living space… you've got some really high quality drama.
Plus, the boat's captain, Captain Lee (aka The Stud of the Sea) is always stone-faced when he delivers his iconic one-liners.
The Real Housewives...again
Let's be real: there's no way you finished all of the Housewives already. But now that you've had a sufficient break, it's time to keep on truckin'. If you do have to step away to engage in some family bonding, however, take a cue from Brandi:
Project Runway
Last but not least, Project Runway — the new Karlie Kloss-helmed one, obvs. The most recent season is only two episodes in, but don't worry, you've got the last one, and a ton of Brandon Maxwell and Christian Siriano quips to keep you occupied.
There you have it: like, a million hours of reality TV. I haven't even watched half the stuff on this list, and this is how I'm feeling already:
Still, it's worth it. And if your family gives you shit?
Images/GIFs: Tumblr/Instagram/Giphy