Get Your First Look At The New Gucci x North Face Collaboration
🔥🔥🔥🔥🔥🔥🔥🔥🔥🔥🔥🔥🔥🔥
We've been stuck inside for pretty much all of 2020. So, it's no surprise that many of us, including Gucci's Alessandro Michele, are fantasising about the great outdoors. But while the rest of us have taken to Googling exotic locales, Michele has been busy working with The North Face to create the wardrobe we'll all want to wear when we can finally head back outside.
Revealed earlier today, the Gucci x The North Face collab is what sweaty hiking dreams are made of. Inspired by the '70s, adventure and outdoor travel, the capsule features jumpsuits, sweaters and Michele's take on The North Face's iconic down jacket — who ever said hiking wasn't fashionable AF?
Gucci first teased the collaboration back in September, but now that we've gotten a good glimpse of the line we can say this: Gucci x The North Face gives a whole new meaning to the great outdoors. Going beyond just high fashion hiking gear, the capsule also features accessories including shoes and equipment like tents and sleeping backs. Set me up.
Heavily influenced by Michele's fascination with the '70s, the pieces are based on The North Face's original designs from the decade, completed in bright earthy tones and floral prints created exclusively for the collection.
The campaign also feels like a total throwback, with images and a campaign video by photographer Daniel Shea capturing the collection's adventurous spirit. Shot in the Alps, the imagery showcases a group of beautiful hikers as they explore equally beautiful mountains and rivers all to the tune of "Bad Moon Rising" by Creedence Clearwater Revival. The soundtrack choice also references The North Face's early days, when they were an outdoor retailer in northern California whose retail space was actually next door to where CCR got their start.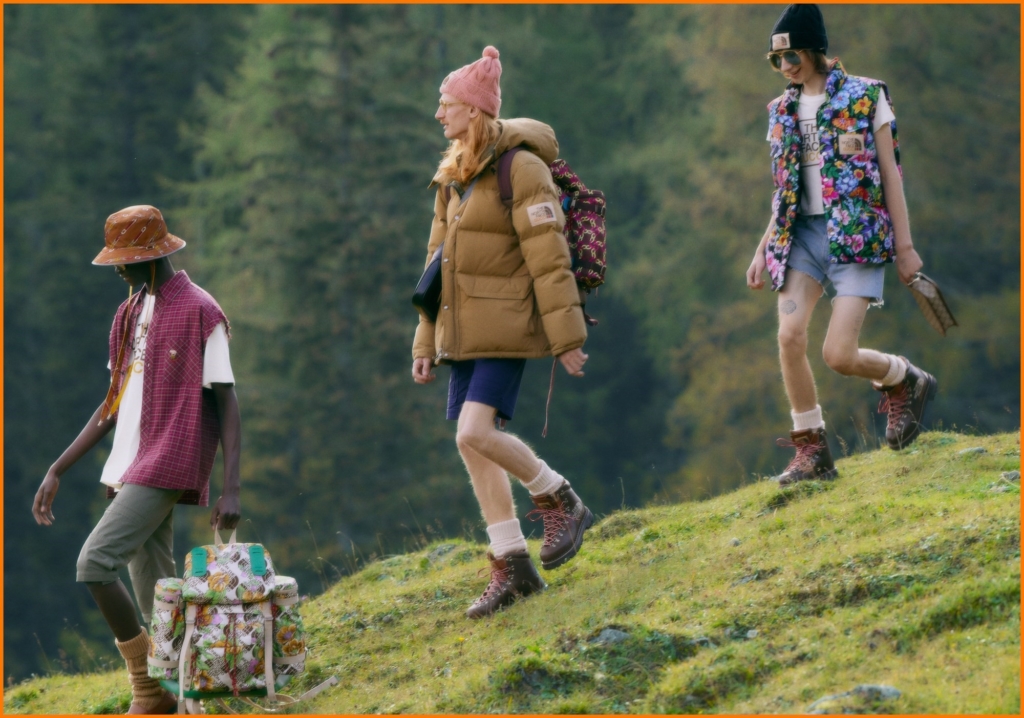 This collaboration also marks a first for Michele, who hasn't partnered with another fashion brand since taking over as creative director in 2015. The North Face, however, has partnered with a ton of fashion houses, including Junya Watanabe and Maison Margiela; but, we have a feeling, this one's a good moon on the rise.
Gucci x The North Face is set for its IRL debut at a Beijing pop-up on December 29. And though it won't be available elsewhere or online until January, it's never too late for a great Christmas gift for yourself — or, you know, me.
Peep the collection above, and watch Shea's campaign vid, below. Since we can't all go hiking right now, at least a girl can dream.
Images: courtesy of Gucci