Collection Survey: Crystaltania Jewellery Shot By Tasya Kudryk
The 100% charitable jewellery project by photog duo Synchrodogs.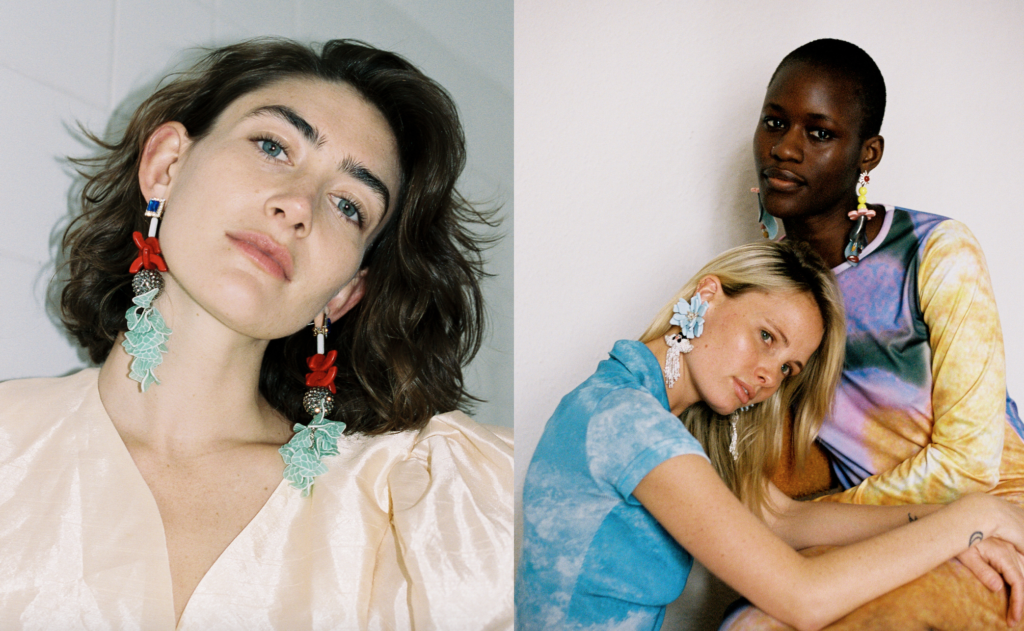 You'd best know Tania and Roman from their super catchy work as photography duo Synchrodogs, but right now we're looking at their work on the 100% charitable jewellery project called Crystaltania. With this, they piece together bright and brilliant sculptural earrings and necklaces that obviously make your face better but, in their words, "make the world a little better" too.
Each piece is uniquely crafted from beads they collect from all over the world and is totally affordable. Every time you spend money on a one-off pair, it's sent to a charity of their choice and you'll get to learn about it via a postcard that gets delivered with your jewels. It could be an orphanage in Ukraine that gets bed linen thanks to your purchase, it could be arctic foxes that get saved from poachers, or it could be rescue animals getting food and homes.
Get to know more about their work below, fall in love with their jewellery in the gallery above, and head to the instagram to buy.
Name: Tania from Synchrodogs

Starsign: Leo

Any personal beliefs or values that are meaningful to you?

All people should be a little bit more kind to each other, learn how to give, not only how to get, and feel responsible for keeping nature as untouched and safe as possible.

Can you tell me a little bit of background on yourself, how/when you started your label, and what you were doing before / currently with Synchrodogs?
Basically we are a duo of photographers called
Synchrodogs
, Tania and Roman.
 Crystaltania is our 100% charitable project, a jewellery brand, but mostly just a hobby that gives us opportunity to make the world a little better. We are travelling a lot and always collect interesting new and vintage jewellery, beads, details. One day I had some wild inspiration inside and made 10 jewellery pieces at night using those beads we collect from all over the world. First I was giving them as presents all the time but then I started getting requests to purchase my earrings. I realised I couldn't sell them (it felt like selling my children), so the only excuse was to spend the money earned for something good — then I would be able to sacrifice my personal love for every piece I make as they all exist in edition of only one.
If you could describe the designs in five words? 
Colourful, unique, sizeable, charitable, meaningful.
And you're donating everything to charity? Which ones and why?

Every time it's something different, we always send a postcard to each buyer saying how exactly their money was spent. This month we were busy with sewing 98 bed linen sets for orphanage in one Ukrainian village, some time ago we bought a lot of games for development, toys, books, sport goods, kitchenware, even washing machine for them (shelters are usually very poor here in Ukraine as do not get enough budgeting).
Two months ago we bought out six brown and arctic foxes from poachers who were going to kill them for fur. All animals were transported and now live with Animal Rescue team, got all proper medical care, are getting a lot of food and vitamins, and even have passports now. In the end of Spring we will be building a new big home for them. Often money from sales are spent to help people who are in urgent need for medical help or simply to fulfil somebody's dream. Last year we bought a tandem bike for a blind man who had a dream to ride one, now he can cycle with his friend.
If the collection was a colour: Rainbow
If it was a mood: Inspired
If it was an animal: Bird of Paradise
If it was a language: English (so that everybody can understand)
If it was a place: New Zealand
If it was a time: Nighttime
If it was a song: Kendrick Lamar, SZA – All the Stars
If it was a season: Spring
If it was a food: Fruit salad
If it was a famous person: I'm afraid every pair of earrings are a different person
If it was a YouTube video:
If it was a smell: Fresh air
If it was a texture: Herbal texture
If it was a film: Planet Earth II