'Legally Blonde 3' is Actually Hapenning
Best. News. Ever.
It's Thursday, Donald Trump is president of the United States and Buffy has been removed from Netflix — needless to say, things have gotten pretty bleak. But finally, we have some good news to report: Elle Woods is coming back. That's right, we're talking Legally Blonde 3.
If you don't know what I'm talking about, you need to time-travel back to 2001, ask your mum for a ride to Blockbuster and rent the Reese Witherspoon classic that made thousands of girls want to actually go to law school — and buy one of those pink iMacs. (My parents refused to get me one and I'm still holding onto some resentment over it, honestly).
Legally Blonde was a masterpiece, and though Legally Blonde 2 wasn't that great, we've been waiting for a third movie in the franchise for over a decade. Rumors about the film started not long after the sequel flopped, but unfortunately, nothing happened.
That is, until now. This morning, Witherspoon confirmed the film by posting a clip from the original movie on Twitter. In it, Woods floats in a pool in a pink sparkly bikini. For what, you ask? Her Harvard admissions essay, natch. Welcome to the Ivy League!
Though details about the upcoming film are still sparse, it has been confirmed that Karen McCullah and Kirsten Smith, the writers of the original movie, have signed on to write the film, and obviously, Reese Witherspoon will reprise her role as Elle. I wonder if Bruiser (or, I guess at this point, Bruiser #2) will be in it? Either way, Legally Blonde 3. We're ready.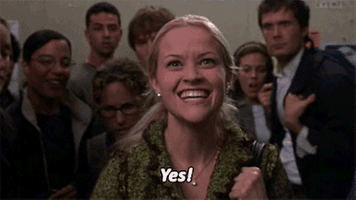 Photo/GIFs: Tumblr & Giphy