Get To Know Raw And Real Photographer Renee Parkhurst Ahead Of Her Exhibition 'Pure'
Big mood.
Renee Parkhurst, a photographer mostly of fashion but sometimes of music, shoots very raw and real photographs that pull from something that comes from within her subjects. You can't quite pin the vibe — sometimes pretty, sometimes soft, sometimes sun-drenched and sometimes dark, still and staunch. But that's not to be confused with wishy-washy. Renee's work is strong in its moment, and uncompromising in its mood.
Being part of the Oyster fam since the early days of her work, we're really stoked for her that she's presenting an entire body of work in September this year. It features the enigmatic performance artist / musician Geneva Jacuzzi and — appropriately strong in mood still — will be held in an old gothic revival church in Los Angeles.
Joining her work will be neon lighting, a mega 20-foot bird cage, angel statues, Nick Leng on grand piano and an after party at the Echo with Geneva Jacuzzi and Drab Majesty. This is a whole thing!
More on the exhibition later, right now you can tap through Renee's archive to get a feel for her feels, and read on below to get to know what she's about.
Name: Renee Parkhurst
Nickname: Daisy
Star sign: Aries
Where did you grow up and what values from your childhood have stuck with you?
I grew up in a town called San Clemente, Southern California. I can't think of specific values but more so how certain experiences shaped me. Is it crazy that I can't actually remember being taught specifics from my parents? I was such a difficult child… I would not listen to anyone and I think my parents let me figure it out on my own. So the tough situations I got myself into, I learnt from and grew from that I carry as knowledge now. Not enough space on here to go through that…
What were you into in high school?
Getting myself into trouble and falling in love.
What teen attitudes are you happy to have left behind?
The overwhelming emotion of letting small things crash my world down. I now see the space that we live in, and our size we carry with us.
Do you remember the first time you got a roll of film back and realised you were good at what you do?
Ah, I think when I was 19 I got my first print in a magazine for a fashion page, and at the time I was taking some courses at a community college because apparently learning the same thing you learnt in high school over again was what they thought we have to do to make money. Anyways, two weeks into this photo class my teacher saw my work and made me realise that I was wasting time and needed to get out there.
When you're taking photos, what kinds of themes or moods do you most enjoy celebrating?
I would rather go down a emotionally intense direction, rich with a deeper feeling. Whether it be very coming from something/someone photographed in a raw and honest way that brings this emotion, or a vision conceptualised and brought to life.
And what kinds of people do you enjoy photographing most?
I am always more drawn to models who have something intriguing in their look, their personality, or their style. It's important to see the talent as a true muse to your taste to give yourself that authentic inspiration and vision behind it. I also love shooting musicians, something I got into more when I moved back to LA.
Your brother is a photographer as well — are you super competitive?
We surprisingly are not! I think we have such of our own thing going on and when I started my career was when I moved to Aus in 2011 so I guess the separation by distance forced us to have our own worlds around it. Thank god… haha.
Do you have any advice for young photographers trying to get into the fashion industry?
Stop scrolling instagram and shoot what represents you're own mind.
Is there anything about the industry that took you by surprise?
To be honest I cannot think of anything that I am shocked by these days, or have been in this case.
And anything you'd change about the industry?
The corrupt body image standards haunting women and men everywhere, not just who are working directly in it.
Of course fashion is trend-based — how do you make sure your work is always evolving?
My work evolves in the same capacity and timing as I evolve. It is connected, and I do not adjust my work to what is happening trend wise. To not evolve as a person would mean death, so I naturally let it happen as it should.
What vibe are you pushing for right now?
I went through a quite intense last two years of changes in my life and alongside these times I grew a lot through that, so I've been shedding the skin of the past and leaving any of my own visual output I no longer felt connected to behind. I finally feel a fresh vision has come to life. More clear, defined, and artistically motivated.
What's on your list to accomplish this year? What are you working on?
I'm working on three photo/art books at the moment, but one I've got another 4 years I've put a time limit on to complete, and the other two about a year left. And as you know very excited to announce my solo exhibition in LA September 2nd. This will be featuring musician and fantastic performance artist Geneva Jacuzzi. I saw her open for John Maus end of last year and my mind went into an absolute trip, I had to do something with her, so I pitched this show and we've been shooting up a shit ton and making some really cool images. I've rented out this old gothic revival style church for my exhibition so should be really interesting, followed by a big show by her at the Echo with a few other acts like CMOn and Drab Majesty djing after so a whole night of it.
Finally — if you could have any photographer, dead or alive, shoot your portrait, who would it be?
Nan Goldin would be cool.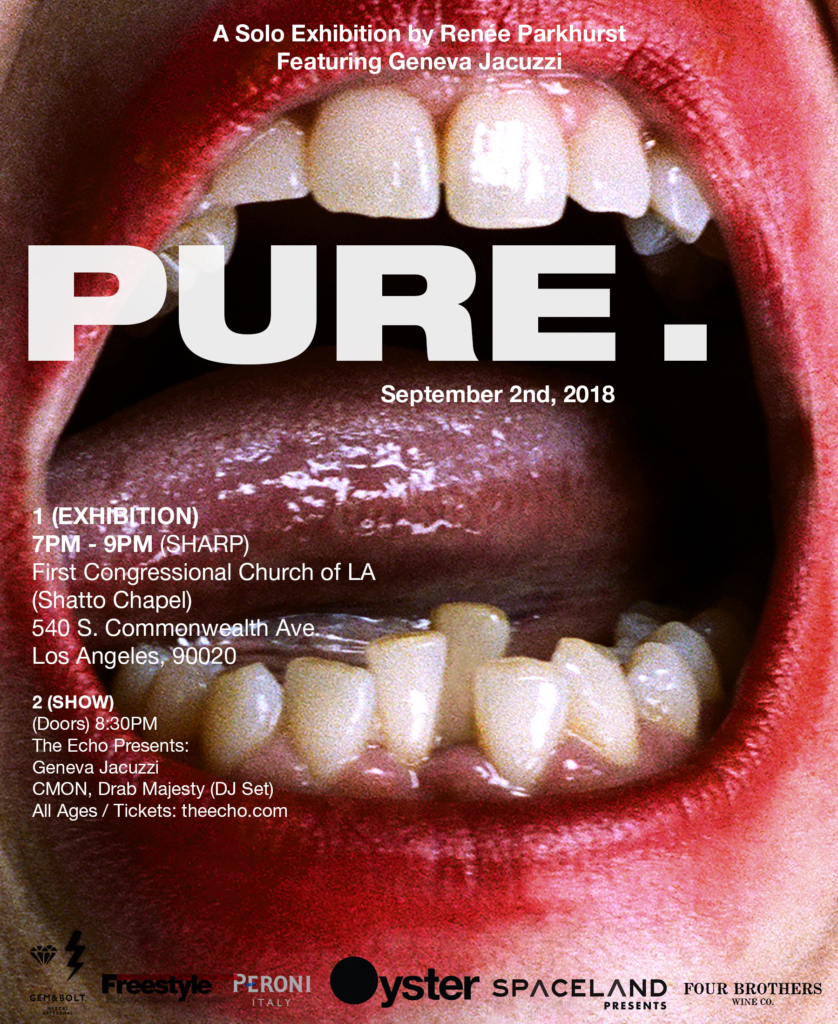 Images: Courtesy Renee Parkhurst