Our Legacy On Their Distinct Versions Of Minimalism And Sustainability, Plus Their New Womenswear
Oh, and they just opened a store in Berlin.
Our Legacy have been pumping out excellent menswear that's as good-looking as it is pleasurable to wear since their beginnings as a cool t-shirt label in 2007. But it's within the last five or so years that the label has really been considered in its approach to experimental ideas that still very much have roots in practical, wearable and staple clothing. Being Swedish, the Scando minimalism runs thick in their blood, but there is a great strength in the utility of even their quite eccentric designs.
Having just opened a store in Berlin, as well as launching their first womenswear collection this year, the whole crew was available for a chat — creative director Cristopher Nying, co-founder Jockum Hallin, and CEO Richardos Klarén. They walked us through their brilliant new Deutsche digs, got us really excited about the future of their womenswear, and introduced us to a fresh version of sustainability that is truly creative and inspiring.
Hey, so you just opened a store in Berlin, congrats! Why Berlin?
Richardos Klarén: Yes, and thank you it feels great. We have wanted to open in Berlin for a while and now we found the right space and the right location, so it happened. Berlin has always been very interesting to us as a city of art, culture and music, with a strong sense of youth spirit. It is a city close to our hearts. Also we have a good following here and a steady increasing business. It felt natural to open in Berlin.
Berlin is quite different to Stockholm… but Our Legacy is also way more adventurous than a lot of Scandinavian labels. Are you conscious of separating yourself from the well-know minimalism?
Cristopher Nying: We thought we could separate ourselves in the beginning, but we realised that's not possible since we grew up here and got affected by this "minimalism". It might not be that visible in the aesthetics, but more in how we reduce details and expression.
I must say, the interior of the store is super nice. It's minimal, but not explicitly Scando — who did you work with to design it?
Jockum Hallin: The space is designed with longtime collaborators, Swedish architectural firm Arrhov/Frick and is inspired by the aesthetics of galleries in adjacent neighbourhood Mitte. I went to the same high school as Johan Arrhov actually, in the small town Jönköping. We've been working together since 2011/2012. I guess we have developed a signature aesthetic over the years together, that keeps evolving and elevates for every new project. Reducing is a majorOur Legacy design key and the work together with architects Arrhov/Frick highlights this fact. The result is often something raw yet refined, timeless and honest. In Berlin we used concrete, steel, acrylic glass and pine as key elements. The interior is treated like free standing sculptural objects, similar to a gallery the space second to the works, in this instance our clothing.
Speaking of adventures — you've recently launched womenswear. We all know the man you design for, but how would you describe your dream female customer?
CN: We never had the intention of "icons" wearing our clothes, so we hope the men's customer is not too clear either. There is a style of course, but I hope it is a forever changing one within our world and I don't see the women customer different to our men's customer. They are all ages and have their various expressions.
Why the move into womenswear?
CN: We have always tried to positionOur Legacy as something else than a stereotypical "menswear brand". Ideas for womenswear have since many years been on our mind, and ever since foundingOur Legacy we have had women in mind while creating the menswear line. Women's product is a very natural step for us, and an important one to makeOur Legacy complete. The dynamic between the genders has always been an important aspect in our design, and going forward it will impact even more of the brand, both visually, emotionally, distribution wise and offering of product. I'm sure the womenswear will give the menswear a positive effect too, the synergies will make everything stronger, more complex, more interesting.
What does your womenswear design team look like?
CN: We are a group of 6 people including sourcing, design, pattern, fabrics and illustrations under one umbrella, running the design. We have not separated the two departments for men's and women's yet.
You already have women buying from your menswear — did you pay close attention to what was popular with them and translate it, or did you want to leave them buying from men's and then create a whole new offering under women's?
CN: Yes some products were translated in the general sense of what a garment communicates, but all patterns are unique. We started to design the womenswear a bit earlier than menswear since we felt it was important that the womenswear affected the menswear.
You actually styled some of the women's pieces on men. Would you ever call the label unisex or is it just kinda styling tricks you're into at the moment?
CN: I always thought that the dynamic between genders is vital to not become too stereotypical in the expression – that it allows you to be more free in questioning the stereotypical choices of garments and its categories and their colours. I don't like unisex, the result is not distinct enough and you are somewhere in-between. Our bodies are different and it is important to take that into consideration. If you want a "men's" shirt, you buy the men's shirt and vice versa.
What womenswear brands are you inspired by, or what were you looking at when you were creating SS19?
CN: As mentioned before I always liked the dynamic between two genders, so the answer would have to be brands that make both men's and women's. However, I really liked the old Alaïa if we're talking only womenswear, because it was so incredibly distinct. And as always people in our surroundings, friends and street style is very influencing for me.
Oh, and can you tell me about this insulated sarong — where'd the idea come from?
CN: My grandmother Barbro always wore this in the winter.
I also wanted to chat to you about the Work Shop. For our readers who probably haven't had the chance to visit, can you explain what it does?
JH:Our Legacy Work Shop is a half studio/atelier half retail store concept. InOur Legacy we take care of all previous seasons overstock, residual fabrics and leftover materials. High Street chains burn their old stuff, designer brands have outlet shops they don´t want to speak of, but we wanted to show that just because a garment or fabric is a couple of seasons old does not mean it´s worthless. So the whole Work Shop concept is about us elevating old things into something new, creative and interesting again, giving the product a second life. In WORK SHOP we deconstruct and reconstruct, overdye, silkscreen, recycle and upcycle oldOur Legacy pieces and fabrics. It´s sustainability theOur Legacy way.
Is it successful?
JH: People are psyched actually, we just came home from introducing the Work Shop concept in Japan together with Dover Street Market and we could not be happier. I think it´s the fact that we show that sustainability and recycling does not have to be guilt-connected, it can be fun, creative and free. All companies need to have an eco-friendly agenda going forward, but as consumers, when buying something, you want to buy something you find desirable. Work Shop combines the two.
Is "sustainable" working into the brand's identity, officially?
RK: It is something that we think about constantly. We try to integrate it in our daily work. We produce everything in Europe, with small factories where we can have an overview of production. I think a big problem in general is over-production and over-consumption. We produce small quantities and try to take care of our left-over fabrics and trims, as Jockum mentioned regarding Work Shop.
Finally, what does the future look like for Our Legacy?
RK: We are in a quite intense growing phase right now. With the launch of womenswear (Spring 19) where we have put a lot of effort last couple of years and also looking to open two more Our Legacy stores within short. The future is exciting!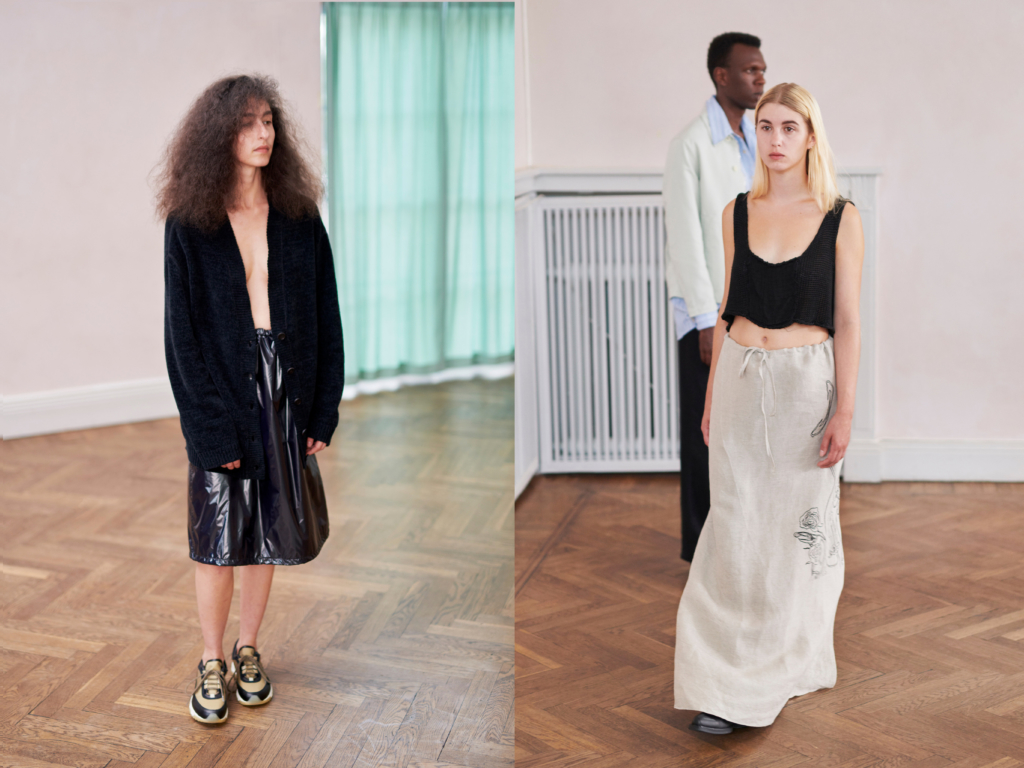 Images: Courtesy Our Legacy