Travis Scott Designed Shirts For A Houston High School
Wish U Were Here.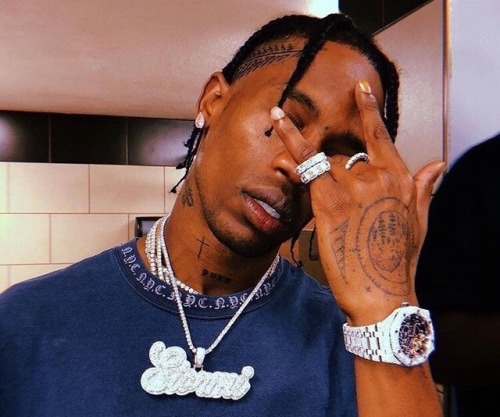 Not only is Travis Scott a genius Harvard student, he's apparently a good guy, too. The rapper just delivered on his promise to design t-shirts for Houston's Eisenhower High School.
Back in September, a student from the school tweeted at Scott, who's also from Houston, asking if he could use some of the artwork from Astroworld in his design for the senior class' Class of '19 shirt. Scott responded by saying, "I'll just design them for u guys and send a box thru how about that?"
Sounds cool. And he actually did just that.
Earlier today, the rapper shared photos of the now-completed designs (yes, he created two different ones) on his Instagram Stories. The first tee is a mustard yellow design that pairs the Astroworld 'Wish U Were Here' slogan with a rainbow smiley face and a Class of 2019 logo with the words 'Enjoy the Ride' and 'Sincerely, Travis Scott,' emblazoned on the back; the other design, a black long-sleeved t-shirt, includes the Astroworld album cover along with the words 'Greetings from the Class of 2019, Wish U Were Here.'
Both the looks are pretty cool — maybe Scott will study fashion design at Harvard. And maybe someone from Eisenhower's Class of '19 will be one of his peers.