Collection Survey: Daemon Concept Make Jewellery For Future Selves
Natural beyond nature.
Created by Sophia Rotas, Hungarian jewellery brand Daemon Concept have just launched their first permanent collection. Titled 'Dystopian Renaissance', the collection treads biology and technology and encourages new ways to both express and control ones body. Aside from having some pretty maje Stargate vibes, the collection feels important in its portrayal of the future as hopeful.
Curious about this aesthetic that is at once ancient object and transhuman rave curio, we asked Sophia to fill out our Collection Survey to dish on past and present inspirations.
Name: Sophia Rotas
Starsign: Leo with Sagitarious rising
And what were you doing, learning or practicing before you started working on your line?
I guess participating in Europe's DIY rave scene and working together with electronic music labels is more definitive for me than anything else. I worked as a stylist and designed fashion collabs and merch for labels such as Ninja Tune, Avian, Ultra, and Posh Isolation, and when the time came I was literally bullied into starting my own line because I could already see others succeed with my ideas. I started Daemon Concept when I was able to connect my values and rave aesthetics with high tech means.
Where are you from and where do you live now?
I live between Berlin and Asia, its a serpent biting its own tail but I always made a point of not belonging so I could have a free perspective. I was born in a specific point of time in a post Soviet Union country, Hungary after the Iron Curtain fell, and freedom was palpable, people were really disappointed in all political and religious beliefs and just wanted to pursue their own thing and be free — I guess I never stopped being critical with authority. Like Childlike Princess from Never Ending Story with the grain of Fantasia. I was literally raised by Aeon Flux on 2000s-era MTV and had barely any cultural identity… unless not belonging and always having to build my own world often together with friends who live far away from me qualify — then I'd like to be the president of that club, which is a paradox.
Can you tell me a little bit of background on the collection and label — any inspirations, references, important collaborations?
'Dystopian Renaissance' is the name of the first collection, because we live in point of time when so many of us was able to pursue a creative path yet we have so many dystopian scenarios of the future. The most important thing, is that I have to try to never let myself be cynical — I want to make everything with the upmost trust in the audience. Dystopian Renaissance is based on some sort of a 'cruel optimism' as I feel like we can be aware of our surroundings, see the world for what it is but also see the potential, what things could be. I really think let it be art or an environmental cause, it is a point of privilege to be able to convey it, and even to be able to sad about this is a form of luxury.
The next collection 'Primavera Acumen', which translates to 'Language of Spring', is about a point in time of overcoming silence, self-inflicted troubles and isolation, and conveying the feeling of becoming new in every sense. It will shed a light on how important communication and transparency is in order to make changes.
Any personal beliefs or values that are meaningful to your work?
I would like to get deeper into my personal perspective on transhumanism and hyper reality, and perhaps tackle the emotional side of technology alongside design innovation, and create permanent collections based on these themes with an interdisciplinary approach, meaning music and visuals with my friends around it. Build a world and always add to it as opposed to make something seasonal, I think that belongs to the past. We use mainly silver as a material, they call this metal a 'virgin maiden' because in a sense it can always be renewed and really eternal.
Who is the person you hope would wear what you make?
These are adornments for an evanescent, non-binary beauty. Whoever wants to enter a party like they own the place it or just be home playing video games and build their fantasy world — both are important and valid for me. I'm very much the product of my environment and by the time I actually mustered up the courage to make tangible products, I had the people around me I wanted to impress. I mean, I'm always just a goth/club kid at heart, fantasising about the next after hours. And it is pretty cool to build new connections with the early adaptors wearing our pieces ranging from have high profile martial artists to scientists doing important work on sustainability in terms of creating new age plastics and see all these fantastic people wearing my designs.
And how do you hope it makes them feel?
Natural beyond nature. Transcend beyond gender, find ephemeral states and drive it into tangible reality.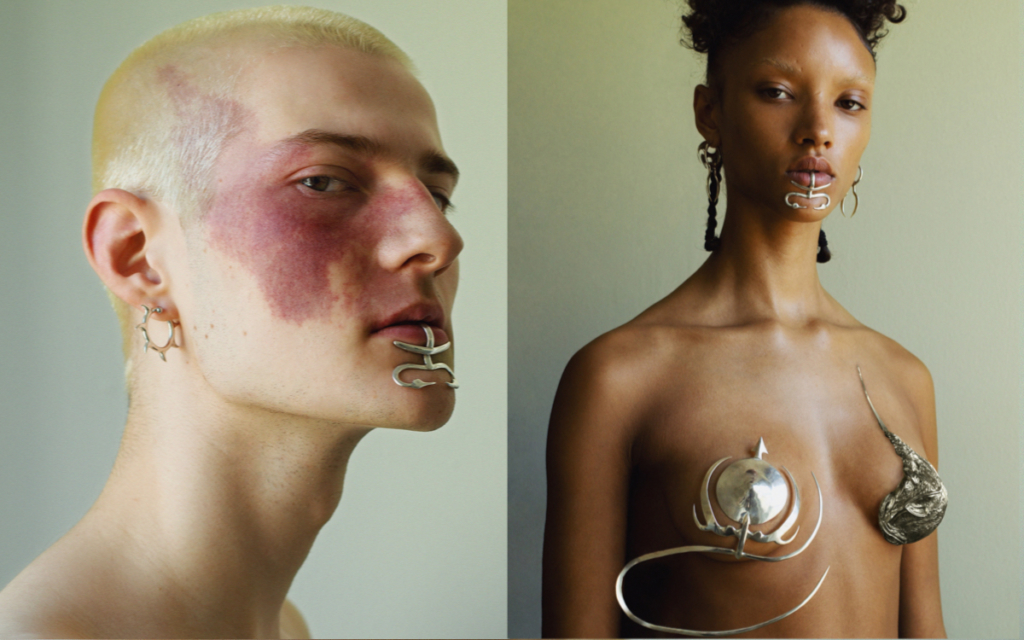 If you could describe the collection in five words?
Quixotic, Protopyan, Futuristic, Sacred, Otherwordly.
If the collection was a colour: Mother of pearl, iridescent white
If it was a mood: Blissful but desireless
If it was an animal: A hawk or an osprey, a bird that sleeps on the wind
If it was a language: Babel17
If it was a place: An artificial garden
If it was a time: 2046
If it was a song: Eartheter – High Tide
If it was a season: Primavera / Spring
If it was a food: Green tea made of snow
If it was a famous person: Jeanne D'Arc
If it was a YouTube video:
If it was a smell: Lilly of the Valley
If it was a texture: Silk
If it was a film: Elfen Lied anime
If it was a quote: "The pessimist can predict the future with more accuracy but the optimist creates it." – Matthew Stone