Peep The Limited Edition Dior x Shawn Stussy Surfboard And More At New Sydney Seasonal Boutique
Surf's up 🏄🏽‍♂️
Retail and shopping IRL have sure been through a whirlwind this year, with the ability to even go in-store restricted in many parts of the world, including Aus. Fashion brands have adapted with interesting digital experiences to showcase their collections, from digital fashion week presentations to influencer hosted live-stream previews and personal viewing appointments via FaceTime and Zoom — ultimately rethinking how to make it easiest for customers to actually see and shop their products.
For our upcoming spring and summer months, with Sydney residents fortunately now able to shop COVID-safely at physical stores and interstate travellers hopefully able to visit (without quarantine issues when they leave) by Christmas, Dior has opened a new Seasonal Boutique.
Located at 345 George Street, Sydney, the boutique offers what the brand calls a "sophisticated shopping experience" that reflects "the legendary elegance and timeless modernity of the world of Dior," showcasing both Men's and Women's collections, along with accessories and jewellery, across an open-plan, single-level space that feels more relaxed and accessible than the traditional flagship in the best possible way.
From Men's Artistic Director Kim Jones, the highlight — especially coming into summer here in Aus — is the Beachwear capsule based on his Pre-Fall 2020 collaboration with legendary 90s surfwear designer and artist Shawn Stussy, which debuted ahead of Art Basil in Miami late last year.
The capsule features a range of easy-to-wear-everywhere clothing, hats, bags, shoes, and other accessories such as AirPod holders, keychains, towels, and drink bottles that make fun summer wardrobe additions, regardless of what gender you may identify with.
But the biggest wow factor, of course, is the limited-edition surfboard — yes, only 100 were made worldwide! — covered in the hypnotic Dior collage graphic print.
"Shawn Stussy is one of my great heroes. He started out as a surfer, making his own boards and painted his name on them. It was quite natural for me to ask him to work together on the very first Dior surfboard," said Jones of working with Stussy on the surfboard.  
Just one (!) board is currently in the Sydney boutique — and if you'd like to take it for a surf this summer, it will only set you back a cool AUD $20K, FYI 😉
As for the Men's Winter 2020 collection, also available in the store right now, we're obsessing over the double zipped bomber jacket, the new 'Soft Saddle' bags — more fluid versions of the iconic Saddle bag, which has become a must-have across both the Women's and Men's collections — and jewellery designed in collaboration with AMBUSH's Yoon Ahn. All of which was inspired by and "dedicated to the memory" of the late artist, designer, and punk iconoclast, Judy Blame. A close friend and mentor, Jones described Blame as a "pioneer in the world of fashion, whose love of couture was an inspiration to us all" in the collection notes. Again, you can drop the "Men's" label here, too, as the collection's pieces are all very wearable for anyone.
The Seasonal Boutique also showcases Maria Grazia Chiuri's Women's Winter 2020 Runway collection and accessories, which were presented in Paris back in late Feb at the last IRL fashion week as we knew it for 2020. Chiuri drew inspiration from feminist movements in the 70s and her personal memories of living through this period, as well as Monsieur Dior's 'The Little Dictionary of Fashion', reviving his favourite trends including checks, fringes, and polka dots.
"The 1970s was a defining era for women because they began to think about their role in society," she explained of the era's influence women and the collection. "Fashion had a lot to do with that because women started using fashion to express something of their own, to express their own individuality, with their role … a role with multiple facets."
Along with versatile separates and shoes that are both stylish and comfortable, an exciting standout from the collection in-store is Chiuri's revival of Christian Dior's iconic Bar jacket. Credited with sealing Monsieur Dior's success back in 1947 when it appeared in his first haute couture collection, Chiuri's updated knit version was the opening look of the show, worn by model Ruth Bell, and took the House's ateliers no fewer than four prototypes to recreate the volume and cut of the OG just right.
If smart buying in an uncertain world means investing in wearable classics that truly stand the test of time, a revived icon from over 70 years ago has surely proved its cred. Status update: currently saving for our next "investment." 🙏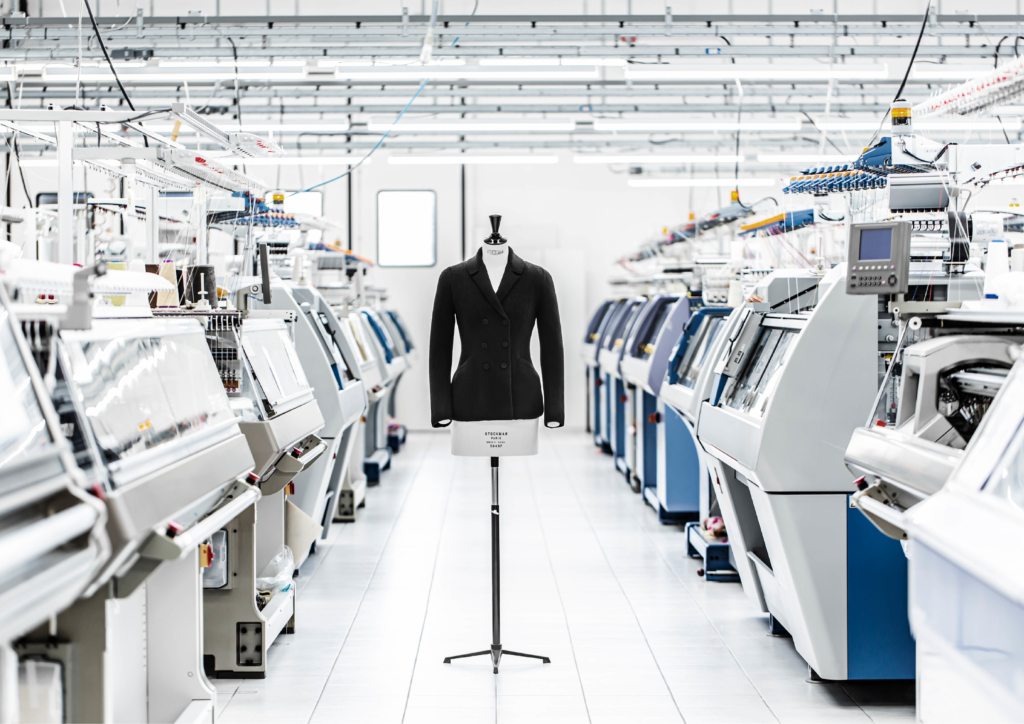 Images credits: courtesy of Dior.